Collaborate with us!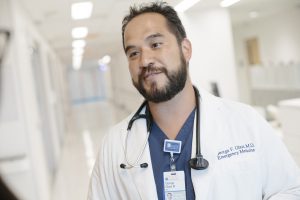 Do you feel at REST knowing that we have your back? Recruit and Enroll with a Supportive Team!
As research continues to grow and reach more people than ever before, collaboration has become a key resource to ensure target enrollment numbers and milestones are met.
REST, a collaborative resource created by the Emergency Medicine Research Office (EMRO), was created to offer a unique recruiting environment to the UVA Research Community.
Why recruit in the Emergency Department?
We enroll during off business hours and have an established on-call model in place.
We are the first point of contact for these patients and can screen them early on to determine study eligibility.
We encounter a diverse patient population presenting with diverse medical conditions that may not be seen in other settings.
Interested in learning more?
We offer a variety of collaborative efforts that include but are not limited to: CRC support, Data support and On-call support.
If you have questions regarding our clinical studies, potential collaborations, and other details about EMRO, please call 434-924-8485.