Editor's Writing Club
About
The purpose of this program is to help strengthen the scientific authoring, reviewing, and editing skills of junior faculty. The Editor's Writing Club will meet virtually, on the dates/times below. You are welcome to attend a single session, or multiple iterations.
Program description
Academic publishing is part of potential professional advancement, yet it's rarely taught in a methodical fashion, creating unneeded stresses and barriers. Ziv J. Haskal, MD, FSIR, FAHA, FACR, has served as Editor in Chief of several journals, line-edited over 15,000 submitted manuscripts, and led small-group 'writing club' practical seminars for nearly 1000 attendees around the world on writing and reviewing.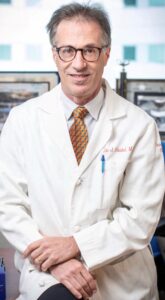 He shares his expertise in these virtual writing seminars at UVA.
In advance of each session, participants will be invited to submit anonymized draft manuscript for discussion. Participants serve as editors and reviewers, using these submissions as opportunities to discuss manuscript construction, presentation, form, structure, and keys to successful publication. This is a great opportunity for participants to have their manuscript "pre-reviewed" and learn to enhance the value of their work before submission. The group will review 2-3 papers during each session. Please note: not having a draft manuscript to submit does not preclude participation.
Through facilitated discussion led by Dr. Haskal, participants will learn what distinguishes a strong manuscript from a weaker one and get tips for strengthening both the content and structure of their own work. The papers are considered private and are not to be distributed to others. After each seminar, we expect all participants to delete the files and destroy the printed copies.
Testimonials from faculty who have already participated
"Great advice given. I liked how thorough the feedback was. I definitely benefited from reviewing my drafts and those of others. By far one of the most helpful workshops I attended."
"My paper was discussed so receiving explicit notes on what to improve was particularly helpful for me. I liked the mix of specific analysis of papers intercalated with breakouts into advice on more general topics."
"I learned a lot from Dr. Haskal going over each section and pointing out areas for improvement and how things should be worded or not.
"Great facilitation by Dr. Haskal, really appreciate his candor and expertise. Felt it was extremely constructive but not hostile in any way. Making me feel more brave to work on my manuscript ideas and submit something."
"Real-world examples were extremely helpful. Dr. Haskal's years of experience are invaluable to this process."