Primary:
Chemical Engineering
6/5/2018
Synthetic biology and protein engineering approaches to develop models of biochemical/biological processes
10/20/2015
Nanomaterials for solar energy conversion, nanoparticle self-assembly, materials chemistry, optoelectronics
1/9/2014
Heterogeneous catalysis, characterization of metal clusters, reaction kinetics

1/9/2014
Petroleum and synthesis gas chemistry, reaction engineering, fuel cell technology.

10/20/2015
Macromolecular engineering for separations and clean energy, water purification, membrane design, ion and water transport, polymer science
12/10/2017
Pharmaceutical and organic molecule crystallization, polymorphism, metal-organic frameworks for energy storage and sensing, thin films, microfluidics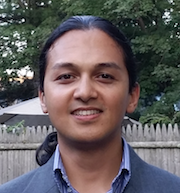 1/9/2014
Reaction engineering of nanoparticles. Rheology of complex nanoparticle suspensions.