Palliative Medicine
The Palliative Medicine program, headed by Section Head Leslie Blackhall, MD, MTS, and part of the Emily Couric Clinical Cancer Center, was named a Palliative Care Leadership Center in September 2015 by the Center to Advance Palliative Care (CAPC).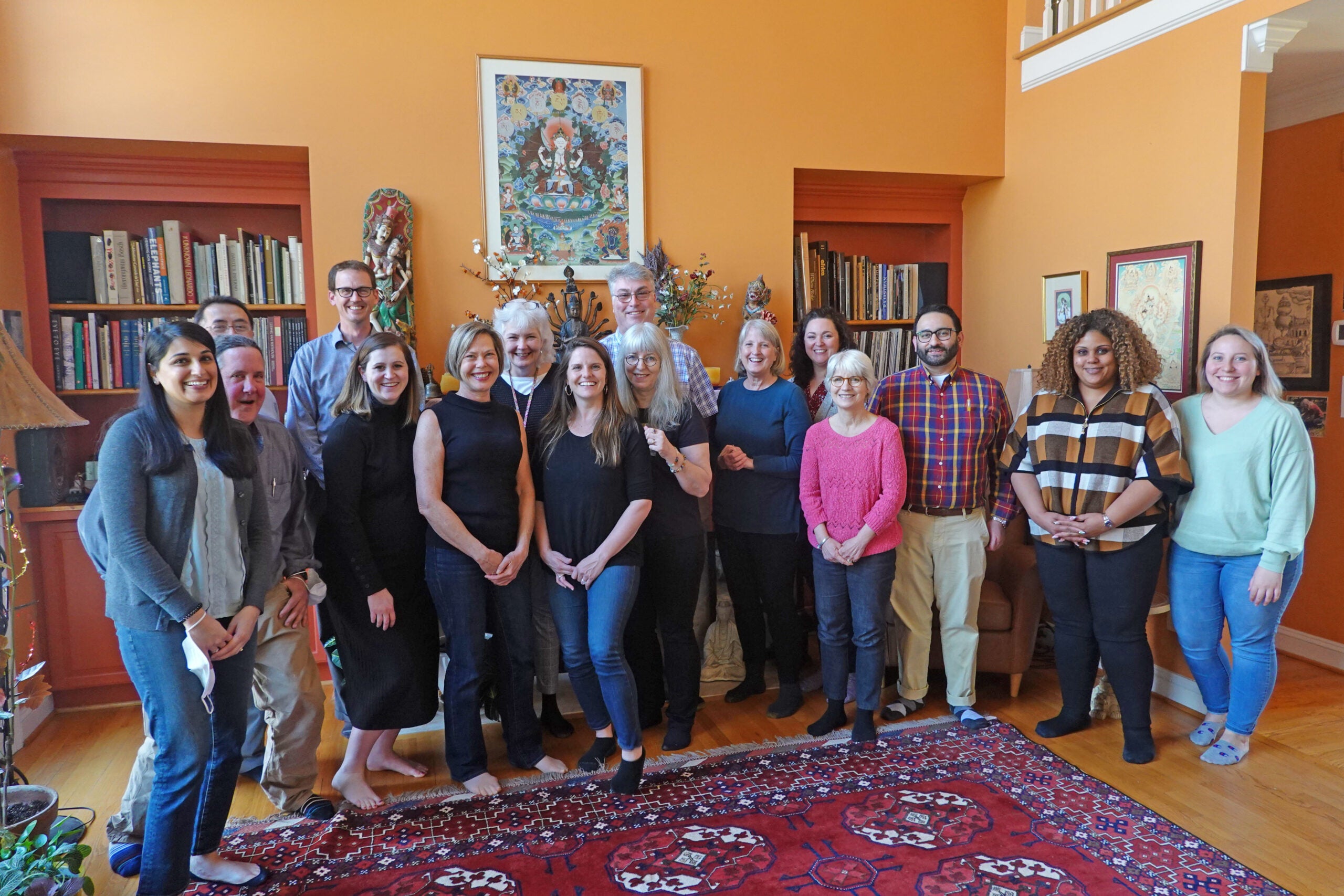 Palliative Care at UVA
Palliative care as a medical specialty focuses on maximizing quality of life during serious illness through relief of the pain, symptoms, and stress that patients commonly experience. Unlike hospice, it is delivered at the same time as all other appropriate treatments for the disease. Palliative care leads to a better quality of care and lower total medical costs and is appropriate for patients of any age or any stage of a serious illness.
The palliative team sees patients at the Emily Couric Clinical Cancer Center (ECCC). Patients can schedule appointments by calling 434-924-9333 and letting the operator know they wish to make an appointment with a UVA palliative care provider.
Palliative medicine physicians provide consults and see patients at UVA hospital for assistance with management of symptoms such as pain, breathing difficulty, and infection, as well as for emotional, social, and spiritual needs. They also assist with transition to hospice care by local hospice agencies for end-of-life support for patients and their families.
Palliative Care Learning Center Training
For institutions interested in developing or expanding outpatient palliative care, training programs are available at the University of Virginia. Please contact Sonja Spradlin at SS2VA@virginia.edu for more information.
What is Palliative Care?
Palliative Care is an interdisciplinary approach to the care of persons with illnesses no longer responsive to curative treatment. The goal of palliative care is to achieve and sustain the highest quality of life for patients and their families by providing aggressive pain and symptom management, together with psychosocial and spiritual support to lessen suffering.
Who Receives Palliative Care Treatment?
People with any chronic medical condition, which most likely cannot be cured, can benefit from palliative care services. People who are receiving aggressive treatment for their diseases often experience side effects. These individuals can also receive palliative care services to assist with symptom management and to receive psychological, emotional, financial, and spiritual support.
How is Palliative Care Different From Hospice Care?
Palliative care includes but is not limited to hospice care. Hospice can only provide services to people with a terminal disease who have less than six months of life expectancy. People receiving hospice services can no longer receive treatments such as chemotherapy, radiation therapy, frequent blood transfusions, and certain medications. Palliative care does not share the same limitations as many hospice programs and can follow any person with a potentially life-limiting disease. If hospice care becomes appropriate at the end of life, the palliative care team works with the local hospice agency to provide terminal care.
About the Palliative Care Team
Patients often keep their own primary doctor, with the palliative care physician acting as a consultant. Some people choose the palliative care physician to manage their care when symptom management and/or end-of-life care is the main focus. The palliative care team includes nurses, a social worker, a chaplain, and if needed, physical, occupational, or speech therapists.
Dying With Dignity
PBS produced a four-part series on dying with dignity; To learn more about this series, which aired in September 2000, and how to order a videotape.
Palliative Care Online Resources:
American Academy of Pain Management
Defining Wellness Through End of Life
Emergency Contact
The palliative care team is available 24 hours a day, 7 days a week. They can be reached for emergencies, after normal business hours, by calling the University operator at 434-924-0000 and asking that the on-call palliative care physician be paged.
Palliative Care Consults
Healthcare providers can arrange for a palliative care consult by calling the University operator at 434-924-0000 and asking that the Palliative Care Consult Team be paged at #1539.
Program Overview
Welcome! The University of Virginia Hospice and Palliative Medicine Fellowship Program provides a rich one-year clinical and research experience.
Fellows who complete our program will:
Obtain the knowledge and skills necessary to provide care for patients and families facing life-threatening or life-limiting illnesses
Learn the administrative skills needed to direct and manage a palliative care program or hospice organization
Develop those practices which will foster a life-long commitment to learning and practice improvement, including self-reflective practices
Apply evidence-based practice to clinical care
Develop excellent teaching skills
Incorporate professional, interpersonal, and communication skills essential to providing compassionate care to patients and families, working within a multidisciplinary team, and communicating with other professionals
Dedicated, board-certified faculty, a comprehensive curriculum, diverse settings, and a strong institutional commitment to palliative medicine provide a unique training experience for those physicians wishing to become highly-skilled clinicians and leaders in Hospice and Palliative Medicine. At the completion of the fellowship, the fellow will be eligible for board certification in Hospice and Palliative Medicine.