Geriatric Medicine
The Geriatric Medicine section operates four well-established community-based practices in the Charlottesville area: University Physicians at JABA, Westminster Canterbury of the Blue Ridge, Colonnades Medical Associates.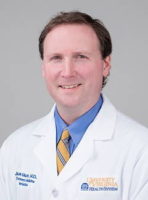 Justin Mutter, MD, MSc, is a geriatrician at UVA Physicians at JABA, where he provides primary and consultative care for older adults. He has a special interest in optimizing medication management for older patients, directing a medication consult clinic at JABA in collaboration with a clinical pharmacist. He also serves as clinical faculty of the UVA Memory and Aging Care Clinic in the Department of Neurology, providing multimodal dementia care services. He is the medical director of UVA's Continuum Home Health Care and a Co-Director, Geriatrics Clerkship. 
University Physicians at JABA
University Physicians at JABA is an outpatient practice that works in partnership with JABA (Jefferson Area Board for Aging), a Charlottesville-based agency providing services to the region's large population of retirees and elderly. The clinical practice, under the leadership of Laurie Archbald-Pannone, MD, MPH, AGSF, has grown rapidly in the last several years; clinicians are available five days a week and offer primary geriatric care, geriatric consultation, and a frailty-focused clinic. See Dr. Archbald-Pannone's blog on Healthy Aging: A Guide to Your 60s & Beyond.
Westminster Canterbury of the Blue Ridge
Seki Balogun, MBBS, CMD, FACP, AGSF, serves as medical director and primary geriatrician at Westminster Canterbury of the Blue Ridge, a retirement community of about 400 residents age 65 years and older. WCBR provides a range of living and care options, including independent living, assisted living, advanced dementia care, skilled nursing and long-term nursing home care. With two nurse practitioners, the practice at WCBR now operates full-time, five days a week, and has expanded over the last several years by about 40 percent. 
Katherine Coffey-Vega is an associate professor of medicine at UVA.  She is a board-certified internist and geriatrician as well as AAHPM certified hospice medical director and a certified acupuncturist.  Her professional focus at UVA includes inpatient care of the elderly, transitions of care, and post-acute care.  She oversees the care of patients at several partnering post-acute and long-term care facilities in Charlottesville.  Her special interests include continuous quality improvement in healthcare, rehabilitation, acupuncture, chronic pain management, complementary and alternative medicine, and veterans' healthcare.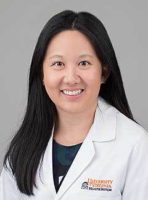 Christina Tieu, MD, also serves patients at The Colonnades, a Sunrise Senior Living community.   It is a full-service retirement community that includes assisted living and nursing home facilities. Colonnades Medical Associates is a UVA outpatient clinic that provides internal medicine and primary care services at The Colonnades, as well as geriatric consultation.  She is the Medical Director at the Colonnades Clinic and a Co-Director, Geriatrics Clerkship.