Application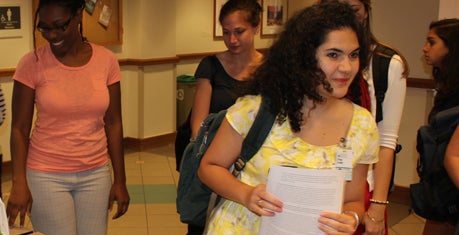 All students accepted to the University of Virginia School of Medicine with an interest in pursuing a residency in family medicine, general internal medicine, or general pediatrics are eligible to apply. Applicants must apply for the Generalist Scholars Program by March 29th prior to the student's first academic year in the School of Medicine. Acceptance into the program is competitive.
If you are interested in being considered for acceptance this year, please submit a one- to three-page letter of intent in which you outline your interest in the program and your thoughts about a potential career in primary care.
Please send your letter of intent to Ms. Tammy Prailey preferably via email to tdp9s@virginia.edu.  
You can also mail your letter of intent as follows:
Ms. Tammy Prailey
Generalist Scholars Program
UVA School of Medicine
P.O. Box 800866
Charlottesville, VA  22908
Upon receipt of your letter, the Generalist Scholars Program faculty will review it along with your medical school application.  A personal interview is not required as part of the application process. If, however, you are interested in speaking with one of our faculty and or current students to learn more about the program, we are pleased to arrange a time to meet on campus.
Final selections and notification of acceptance in the program will be completed by early May. Participation in the summer orientation session is required for admission.  The summer session is a three-week course during the month of July prior to matriculation to the UVA School of Medicine.
Financial Assistance
Generalist Scholars students will be offered a scholarship of $40,000 upon the completion of medical school at the University of Virginia, fulfillment of the requirements of the Generalist Scholars Program and matching into an approved primary care residency (Family Medicine, Internal Medicine, Pediatrics, or combined Internal Medicine-Pediatrics). Scholarship funds will be awarded during the student's final year.