Career Development
Fellowship Opportunities at UVA
The University of Virginia Department of Medicine offers Fellowship Training in more than ten specialties and subspecialties. For information about specific programs and the application process, please explore our UVA Medicine Fellowships site.
Whether you are planning to go into a medical subspecialty or a career in general medicine as a hospitalist or primary care physician, our residency program helps prepare you for that next step.  In each subspecialty field, there is an initial mentor, usually a faculty member active in fellowship program leadership, available to help you understand the field.  At UVA, you are surrounded by faculty who are supportive, accessible and excited to support you in your research and career development, and the program has multiple layers of advising support to help prevent residents from falling through the cracks and et the assistance they need in this area.
Life After Residency
Year after year, our ABIM board pass rate ranks at the top of the country, currently 99% over the last 5 years. We offer extensive board review conferences in the spring of each year helping to prepare residents for this stage in their transition to board certification in internal medicine.
One of the hallmarks of excellence in our residency program is the number of UVA residents who are accepted to nationally-acclaimed fellowship programs. Graduates from our program have gone on to pursue careers in both subspecialty and general internal medicine. A number of our residents choose to stay at UVA, which attests to the high resident satisfaction with the hospital system and the quality of life in Charlottesville. Those who choose to pursue fellowships at other institutions have been accepted to programs that span the nation and regularly match at one of their top choices.
Facts About Our Graduates (2017-2021)
Approximately 75% have chosen to pursue subspecialty fellowship and 25% have chosen to pursue a career in general internal medicine.
Of those entering general internal medicine, approximately 75% are currently serving as hospitalists and 25% in primary care practice.
The graph below indicates the subspecialties entered by our graduates, followed by a listing of programs where they have been accepted.
Fellowship Matches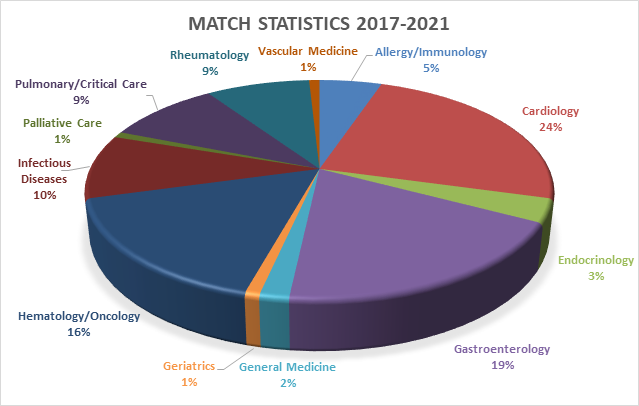 Allergy & Immunology: Henry Ford Health System, Northwestern University, University of Michigan, University of Virginia
Cardiology: California Pacific, Cleveland Clinic, Dartmouth College, Duke University, Emory University, Inova Fairfax, Medical University of South Carolina, Texas Heart Institute, University of California-Los Angeles, University of Maryland, University of Massachusetts, University of North Carolina, University of Texas Southwestern, University of Virginia, Virginia Tech-Carilion, Wake Forest University
Endocrinology: National Institutes of Health (NIH), New York University, University of Pennsylvania, University of Virginia
Gastroenterology: Indiana University, Lahey Clinic, Ohio State University, Pennsylvania State University, Thomas Jefferson University, University of Alabama, University of Colorado, University of Michigan, University of Texas at Galveston, University of Virginia, University of Washington, Washington University-St. Louis, Yale University
General Internal Medicine: Brigham & Women's Hospital, Johns Hopkins University, University of North Carolina
Geriatrics/Palliative: Baylor University, University of Virginia, Virginia Commonwealth University
Hematology & Oncology: Emory University, Fox Chase/Temple University, Johns Hopkins University, New York University, Pennsylvania State University, Rowell Park Cancer Institute, Tufts University, University of Kansas, University of Maryland, University of Michigan, University of Pittsburgh, University of Rochester, University of Virginia, Virginia Commonwealth University, Wake Forest University
Infectious Diseases: Johns Hopkins University, MD Anderson/Baylor University, Stanford University, University of California-Los Angeles, University of North Carolina, University of Pennsylvania, University of Pittsburgh, University of Virginia
Nephrology: Johns Hopkins University, University of Colorado, University of Pennsylvania, University of Virginia
Palliative Care: National Institutes of Health, Northwestern University
Pulmonary & Critical Care: Duke University, Georgetown University, Montefiore Medical Center, University of Colorado, University of Michigan, University of Texas-Houston, University of Utah, University of Virginia
Rheumatology: Cleveland Clinic, Geisinger Commonwealth, Johns Hopkins University, Medical University of South Carolina, University of Alabama-Birmingham, University of North Carolina, University of Virginia, Yale University
Vascular Medicine: University of Virginia