Principal investigator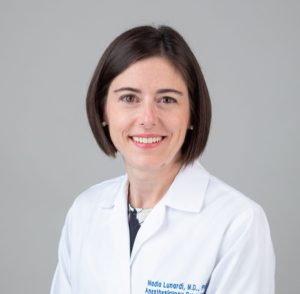 Nadia Lunardi, M.D., Ph.D.
Associate Professor of Anesthesiology and Critical Care 
E-mail: NL3F@uvahealth.org
Introduction Video
Personal Statement
I am a critical care physician and neuro anesthesiologist, serving as the Principal Investigator of a translational research laboratory. I am passionate about research that seeks to understand how anesthetics impact neuronal networks and subsequently initiate long-term changes in brain function. Much of my research interest is defined by my clinical work. In the operating room and in the Intensive Care Unit, I routinely care for elderly patients who experience postoperative delirium – an acute brain failure that poses significant risks to their recovery. In doing so, I am reminded of the personal suffering of affected patients and their families, as well as the implications, both clinical and financial, of this complex syndrome.
My journey as a physician scientist began with my decision to pursue Anesthesiology and Intensive Care Medicine for my residency training at the University of Padova in Italy. It was during this time that my fascination with the fundamental workings of the brain ignited, and I sought a clinical career that would allow me to directly apply this interest to patient care.
In my third year of Anesthesiology residency, I joined the Anesthesiology Department at the University of Virginia, where I delved into studying the mechanisms of anesthetic modulation in the developing brain. This invaluable laboratory experience solidified my passion for translational research and served as the catalyst for my pursuit of a Ph.D. in Pharmacology and Toxicology.
During my Ph.D. studies, I utilized quantitative electron microscopy to explore the impact of anesthetics on synapses and various cytoplasmic organelles. Following the completion of a Critical Care fellowship, I joined the Anesthesiology Department at the University of Virginia, where my research endeavors initially centered around investigating the role of the presynaptic machinery in neurotransmitter release and its modulation by anesthetics. These efforts were recognized with an award from the International Anesthesia Research Society and a K08 grant from the NIH. Since then, my research focus has expanded to encompass the study of interactions between anesthetic drugs and endogenous sleep pathways, as well as the underlying mechanisms of postoperative delirium.
I believe that it is through research aimed at understanding the most basic mechanisms of action of anesthetic agents on the brain that anesthesiologists will find the tools to preventing and treating postoperative neurological dysfunction. My ultimate goal is to translate this knowledge into practical strategies that effectively mitigate anesthetic risks for vulnerable patient populations. I am driven by the hope that my research will contribute significantly to improving patient outcomes and enhancing safety in the field of anesthesia.