Frequently Asked Questions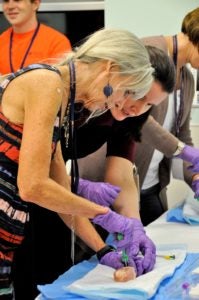 How often do you have this program?
The program usually runs annually, for seven weeks in the fall.
What are the qualifications for admission?
There are no formal qualifications — just an enthusiasm for learning!
Do you offer Mini-Medical School for children?
Mini-Medical School is available to interested junior and senior high school-aged students. For more information on other youth community programs, visit Diversity at the School of Medicine.
When can I apply?
Applications are usually accepted during the month of July. Check the Application page for program updates.
When and how will I be notified of my acceptance?
Applicants are normally notified via email in August.
I missed the application deadline. May I still apply?
Due to the large number of we applications we receive we cannot add applicants after the deadline has passed. The program runs every year, so check back next year!
Can I be added to a waiting list?
If you applied by the deadline, your application will be considered, but after the application period is over we do not keep a waiting list for people who have not applied. The number of applicants often exceeds the number of spaces we have for participants. If we find that the first round of participation offers does not yield 145 participants, we will return to our remaining application pool. All applicants will be notified in August.
If you have a question that's not listed here, feel free to email minimed@virginia.edu!