Clinical Training Pathway
Clinical Curriculum: 2 Years
---
The 24-month Clinical Curriculum consists of: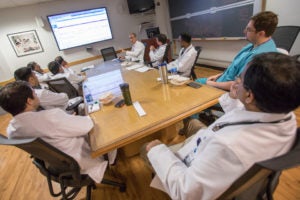 6 months of inpatient general nephrology consultation
3 months of inpatient ICU consultation
3 months of inpatient transplant nephrology consultation
3 months of night float (1-week blocks)
6 months of research and elective
3 months of outpatient services
All inpatient care is provided at the main university hospital under the supervision of full-time UVA faculty.  On any given day, 4 fellow trainees and 3 faculty members make rounds on our three inpatient consultation services (ICU, floor and transplant). The night float fellow is responsible for patient care at night. During elective months, fellows may receive additional training and experience in the areas of pediatric nephrology, renal histopathology, radiology, ultrasonography, urology, transplantation, interventional techniques, and hemodialysis vascular access. Fellow trainees are responsible for the longitudinal care of 6 – 7 chronic outpatient hemodialysis patients at the in-campus hemodialysis unit. Trainees participate in the monthly outpatient multidisciplinary hemodialysis rounds.  Fellows attend subspecialty onconephrology clinic and home dialysis during their outpatient months.
Nephrology fellows at UVA perform native and transplant kidney biopsies using real-time ultrasound guidance under direct supervision of experienced nephrology faculty.  Our fellows become competent in placing temporary hemodialysis catheters.  They receive extensive exposure to all extracorporeal treatments.
Each trainee is allowed 21 days of vacation each year.
Research Curriculum
In the clinical pathway, three to four months are devoted to research. Early in the course of their training, nephrology fellows are presented with a list of potential scholarly projects.  Each fellow is asked to identify their chosen project by their third month of training.  The progress of each fellow in their scholarly activities is monitored during periodic work-in-progress presentations attended by peers and faculty.
Educational Activities
There are conferences held throughout the week:
Summer introductory lecture series
Renal Grand Rounds
Medical Grand Rounds
Case conference
Journal Club
CIIR – Research-in-Progress
Faculty minireviews
Transplant Conference
Fellows debates
Renal Pathology Conference
Morbidity and Mortality Conference
Multidisciplinary Dialysis Access Conference
See Conference Schedule for descriptions and more information.
Trainee Evaluation
We have defined educational milestones in different areas of competency for different stages of fellowship training to guide us in monitoring the growth of each trainee. In addition to the online evaluations submitted by the faculty, staff, and patients, fellows' progress in achieving educational milestones is reviewed in quarterly evaluation meetings of the faculty.