Sandhya Xavier, PhD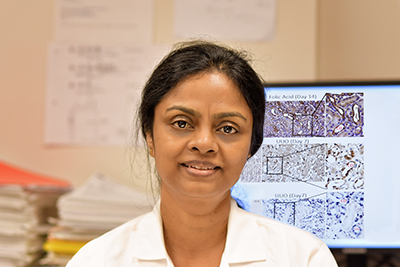 PRIMARY APPOINTMENT:
Assistant Professor of Research, Nephrology
CONTACT:
UVA Division of Nephrology
P.O. Box 800133
Charlottesville, Virginia 22908
Telephone: tel:434-924-9628
Fax: 434-924-5848
Email: sx5u@virginia.edu
EDUCATION AND TRAINING:
PhD Biochemistry, University of Mysore
RESEARCH AREAS:
Signaling pathways and mechanisms in chronic kidney disease
Lab Images
RESEARCH SUMMARY:
In the laboratory of Dr Portilla, we study the role of complement in renal fibrosis. Using mice with specific deletion of complement genes (both global and cell type specific) we are trying to understand their role and elucidate molecular mechanisms in models of renal fibrosis.