FAQs
Virginia Universities Respond to the Opioid Crisis
Opioids are the leading cause of accidental death in the Virginia, and the opioid epidemic was declared a public health emergency in 2016. The rate of opioid-connected deaths has increased nearly five-fold since 2010.
Virginia's universities recognize that they have a responsibility and role to play in helping communities across Virginia respond to the opioid crisis by building a statewide team of higher education investigators committed to providing responsive, timely, data-driven support to enhance the effectiveness of local community health and social programs.
VHEOC's mandate is to link cutting edge knowledge and resources from the university level with the work of Community Services Boards (CSBs) at the local level as part of the statewide response to the opioid crisis. In an integrated and proactive manner, the Consortium will offer university services such as research expertise, technical support, data collection and analysis to help CSBs shape and implement solutions for preventing and combating substance use disorders.
The Virginia Higher Education Opioid Consortium (VHEOC) combines expertise from five of Virginia's public universities: George Mason University, Old Dominion University, the University of Virginia, Virginia State University and Virginia Tech.
The VHEOC can help CSBs with any activity or program that is congruent with the scope of the State Opioid Response grant, current SAMSHA funding priorities, and VDBHDS guidance. This includes technical support for services in prevention, treatment and recovery, and identification, collection, and analysis of data to enhance decision making related to substance use disorders, including opioids.
Regional VHEOC liaisons can guide CSBs on accessing services from the Consortium. They will host meetings to identify and discuss local needs and priorities and will provide technical assistance to CSBs, as needed, in developing Requests for Proposals (RFPs), which is the key to requesting university services through VHEOC.
Yes. In fact, a CSB can submit multiple RFPs either as an individual consumer of VHEOC services, or as part of a group of CSBs with similar service needs. Your regional VHEOC representative can assist you with developing, sharing, and submitting an RFP using either strategy.
Yes. However, through its RFP and project implementation processes, VHEOC is limited to providing its services to a CSB entity. The CSB would be responsible for other local coordination.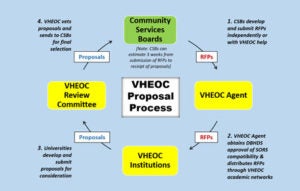 A CSB may request services from the VHEOC through a Request for Proposal (RFP). VHEOC coordinates with DBHDS to ensure the RFP is congruent with SORS funding guidelines. The Consortium then disseminates the RFP through their academic networks. Any number of researchers/faculty from the five universities in the Consortium might respond with one-page proposals tailored to address the CSB request (RFP). A VHEOC Review Committee assesses proposals for their responsiveness to the relevant RFP before forwarding proposals to the CSB. (The Review Committee composition varies according to the source of proposals, i.e. member universities do not participate in approving proposals that originate from their own universities.) The CSB selects the proposal team that best fits their needs. Please see the Proposal Process Flowchart for a visual depiction.
The RFP and proposal process phase culminates in CSBs choosing the proposal they feel best fits their needs. CSBs communicate their selections to the VHEOC Agent (University of Virginia) and UVA officially engages the selected project teams. Project implementation is set in motion and project teams communicate and coordinate directly with the local CSB's designated project officer as needed. UVA administers the funds to pay university partners for the project services they provide and maintains oversight to ensure deliverables are achieved.
The Virginia Department of Behavioral Health and Developmental Services (DBHDS) was awarded federal funding from the Substance Abuse and Mental Health Services Administration (SAMHSA) through the State Opioid Response grant. The VHEOC projects are funded through this grant.
Current funding through the State Opioid Response grant runs from May 13, 2019 through September 30, 2020 and includes four (4) one-year optional renewals.
No. VHEOC funding is only allocated to university partners when CSBs request additional capabilities that already exist among the consortium. This frees up time and effort on the part of the CSBs that might otherwise be necessary to acquire and coordinate these positions.
For general information or questions, email VHEOC@virginia.edu or call 434-243-2457. Regional VHEOC representatives are available to assist CSBs with accessing VHEOC services.
VHEOC Proposal Process