Alyssa Mixon, DO, MBA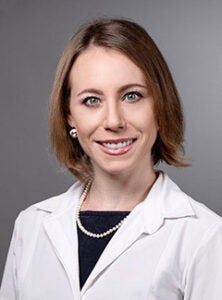 As a cancer rehabilitation doctor, Alyssa Mixon, DO, cares for patients before, during, and after their cancer treatment. She helps her patients manage a variety of neurologic, musculoskeletal, and lymphatic conditions and side effects that can result from cancer treatment. With each patient, Dr. Mixon strives to optimize their functional capacity and quality of life.
Dr. Mixon was born and raised in New England. She attended the University of New Hampshire, where she earned a dual degree in biology and classics. She then attended University of New England College of Osteopathic Medicine, where she focused on learning about the cancer patient population and rehabilitation. After graduating from medical school in 2016, Dr. Mixon moved to Philadelphia, Pennsylvania, for her physical medicine and rehabilitation residency training at Thomas Jefferson University. She became the first cancer rehabilitation fellow physician in Philadelphia, pioneering the program at the University of Pennsylvania.
Dr. Mixon joined the UVA faculty in 2021. She enjoys spending her free time with family, friends, and her dog. She also enjoys traveling, yoga, and photography.
Training & Certification
Primary: University of New England College of Osteopathic Medicine, 2016
Residency: Thomas Jefferson University Hospital, Physical Medicine & Rehabiliation
Fellowships: University of Pennsylvania, Physical Medicine and Rehabilitation
Appointments
Title: Assistant Professor
Division: General Physical Medicine and Rehabilitation Appointment
Department: Physical Medicine and Rehabilitation
Clinical Practice
Dr. Mixon offers interventions, including:
Botulinum toxin injections for migraines and spasticity
Steroid and trigger point injections
Osteopathic manipulative treatments
Dr. Mixon also has expertise in conditions related to cancer treatment, including:
Nerve, muscle, skeletal & functional disorders
Lymphedema
Chemotherapy-induced neuropathies
Radiation-induced neuropathies/plexopathies
Expertise
ABMS Certification: American Board of Physical Medicine & Rehabilitation, Physical Medicine and Rehabilitation
Research Interests: Cancer rehabilitation, breast cancer and racial disparities, radiation-induced lumbosacral plexopathy
Clinical Practice: Lymphedema, Physical Medicine and Rehabilitation, Cancer Rehab
Media