Our Patients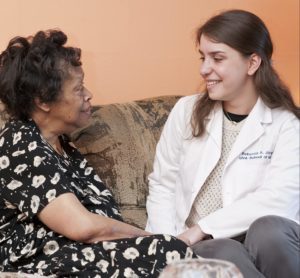 As a "Patient-Teacher," you will be the first patient the student ever works with and this is a very special relationship. You will benefit from having a medical student who is an active member of your clinic's medical team.
Working with a physician coach, your student partner will be able to be more involved in your care as his/her knowledge and experience grows.
Working with you for four years, the student may act as an advocate and go with you to primary care and specialist visits. Your student can also help you access resources, organize medications, coach behavior change for improving health, and communicate your needs to the health care team. The student partner helps you navigate the health system and helps to identify and use resources to improve your health.
Patient Requirements:
Receive continuing care within the UVA HealthCare System
Live within 45 minutes of Charlottesville
Agree to meet with their students in person, by telephone or email at least once a month
Patients also agree to one home visit by the student and mentor physician one time each year
We hope our patients will commit to being in the program throughout the four years of medical school, but patients are free to leave the program at any time.
We are grateful for our patient partners. Here is what our patients have said about the partnership:
"Nearly three years after I met Ms. K, she told me,  'we have accomplished a lot together … by working as a team to make a difference for other patients and future doctors.'  I will be forever indebted to Ms. K for her willingness to build this relationship at the outset of my training."
Ms. K, Patient Partner and Walker Redd, Student Class of 2018
"When my PCP asked if I'd like to participate in this much needed program, as a former Critical Care RN, I  immediately said yes– knowing firsthand of the need for such a program!  The development of a caring, therapeutic relationship with patients is very important in the provision of clinical  medical care. I'm thrilled that the University of Virginia Medical School will be at the forefront in teaching its students a skill that's been sorely lacking in traditional medical school education.  Having a one on one relationship with the same patient over four years of training will prepare the medical students to meet this need early on. I'm looking forward to working with my student and happy for the opportunity!"
Glenda D., RN, Patient Partner and Registered Nurse