James Stone, MD, PhD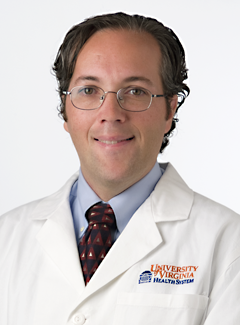 James R. Stone, MD, PhD
Vice Chairman of Clinical Research
Professor of Radiology and Medical Imaging
MD, Medicine, University of Virginia School of Medicine, Charlottesville, VA, 2004
PhD, Anatomy and Neurobiology, Medical College of Virginia, Richmond, Virginia, 2000
BS,  Biology, Virginia Commonwealth University, Richmond, Virginia, 1995
Postdoctoral Training
Clinical Fellow, Division of Interventional Radiology, Department of Radiology, University of Virginia, Charlottesville, VA., 2010
Resident Physician, Interventional Radiology Clinical Pathway, Department of Radiology, University of Virginia, Charlottesville, VA., 2009
Intern, Department of General Surgery, University of Virginia School of Medicine, 2005
Research Fellow, Department of Anatomy and Neurobiology, Virginia Commonwealth University School of Medicine, Richmond, VA., 2000
Contact Information
University of Virginia
Department of Radiology and Medical Imaging
480 Ray C Hunt Drive, Room 280
Snyder Building
Charlottesville, VA  22903
(434) 924-9401
jrs7r@hscmail.mcc.virginia.edu
Research Interests
Traumatic brain injury (TBI) sustained in modern military conflicts
TBI in the combat environment is a major cause of morbidity and mortality in recent armed conflicts. Dr. Stone's laboratory currently explores questions related to improving the clinical diagnosis of this disease process. Ongoing work includes the design and application of novel molecular imaging probes for the detection of acute and chronic effects of TBI. He is also involved with exploring novel ultrasound based approaches for the detection of TBI in a far forward environment.
In addition to exploring novel diagnostic for TBI, Dr. Stone is also involved with ongoing work exploring the affect of repetitive low-level blast exposure as an occupational hazard for humans who routinely work in this type of environment. The goals of this work include determining whether military service members in this environment are at risk for development of mild TBI and helping to establish safe stand off limits for low-level blast exposure.
Research Lab
Publications
Ahlers ST, Vasserman-Stokes E, Shaughness MC, Hall AA, Shear DA, Chavko M, McCarron MR, Stone JR. Assessment of the Effects of Acute and Repeated Exposure to Blast Overpressure in Rodents: Toward a Greater Understanding of Blast and the Potential Ramifications for Injury in Humans Exposed to Blast. Frontiers in Neurotrauma. (2012) In Press.
Tustison NJ, Cook PA, Avants BB, Stone JR. Simulated Diffusion-Weighted Imaging for the ITK Masses, Insight Journal 2011
Shafieian M, Darvish KK, Stone JR. Changes to the Viscoelastic Properties of Brain Tissue after Traumatic Axonal Injury. J. Biomechanics. 2009 18;42(13):2136-42.
Stone JR, Evans AJ, Angle JF, Arslan B, Turba UC, Matsumoto AH. In vitro assessment of aortic stent-graft integrity following exposure to Onyx liquid embolic agent. J Vasc Interv Radiol. 2009 (1):107-12
Hagspiel KD, Stone JR, Leung DA. Renal angioplasty and stent placement with distal protection: preliminary experience with the FilterWire EX. J Vasc Interv Radiol. (2005) 16(1);125-31.
Stone JR, Okonkwo DO, Dialo AO, Rubin DG, Mutlu LK, Povlishock JT, Helm GA. Impaired axonal transport and altered axolemmal permeability occur in distinct populations of damaged axons following traumatic brain injury. Exp Neuro (2004) 190: 59-69.
Mills, J.D., Stone, J.R., Rubin, D.G., Melon, D.E., Okonkwo, D.O., Periasamy, A.P., Helm, G.A. A confocal laser scanner and multi-photon fluorescent resonance energy transfer (FRET) methodology for illuminating protein interactions in tissue sections. J. Biomedical Optics (2003) July;8(3).
Stone, J.R., Okonkwo, D.O., Singleton, R.H., Mutlu, L., Helm, G.A., and Povlishock, J.T. Caspase-3 mediated cleavage of the amyloid precursor protein and formation of the amyloid beta peptide in traumatic axonal injury. J. Neurotrauma (2002) May;19(5):601-14