Stuart Berr, PhD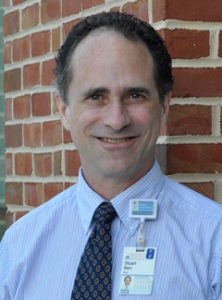 Stuart Berr, PhD
Professor of Radiology and Medical Imaging
Professor of Biomedical Engineering
BS, Chemistry, Grinnell College, 1977
PhD, Physical Chemistry, Wake Forest University, 1986
University of Virginia
Department of Radiology and Medical Imaging
Fontaine Research Park
480 Ray C. Hunt Dr.
Charlottesville, VA 22903
berr@virginia.edu
434-924-5096
Research Interests
Our laboratory is involved with developing magnetic resonance (MR) techniques as a tool for basic biomedical research. We have developed noninvasive, non-contrast-enhanced methods for imaging blood perfusion, demonstrated to be effective in imaging blood flow to the kidneys, lungs, heart, and brain in humans. We were also the first to demonstrate the feasibility of imaging the lung using hydrogen-based MR methods.
We have also been developing micro-imaging techniques for the study of the heart and vascular system in mice and rats. This project has been particularly challenging due to the high spatial and temporal resolution requirements.
Research Lab
Publications
PET imaging of tumor associated macrophages using mannose coated (64)Cu liposomes. Locke LW, Mayo MW, Yoo AD, Williams MB, Berr SS. Biomaterials. 2012 Jul 26. [Epub ahead of print]
Percutaneous intervention in peripheral artery disease improves calf muscle phosphocreatine recovery kinetics: a pilot study. West AM, Anderson JD, Epstein FH, Meyer CH, Hagspiel KD, Berr SS, Harthun NL, Weltman AL, Annex BH, Kramer CM. Vasc Med. 2012 Feb;17(1):3-9.
A nonpeptide angiotensin II type 2 receptor agonist does not attenuate postmyocardial infarction left ventricular remodeling in mice. Jehle AB, Xu Y, Dimaria JM, French BA, Epstein FH, Berr SS, Roy RJ, Kemp BA, Carey RM, Kramer CM. J Cardiovasc Pharmacol. 2012 Apr;59(4):363-8.
Low-density lipoprotein lowering does not improve calf muscle perfusion, energetics, or exercise performance in peripheral arterial disease. West AM, Anderson JD, Epstein FH, Meyer CH, Wang H, Hagspiel KD, Berr SS, Harthun NL, Weltman AL, Dimaria JM, Hunter JR, Christopher JM, Kramer CM. J Am Coll Cardiol. 2011 Aug 30;58(10):1068-76.
FDG-PET Quantification of Lung Inflammation with Image-Derived Blood Input Function in Mice. Locke LW, Williams MB, Fairchild KD, Zhong M, Kundu BK, Berr SS. Int J Mol Imaging. 2011; 2011: 356730. Epub 2011 Dec 10.
More Publications