Anthony Wingfield
Diagnostic Technologist, Fluoroscopy
Army 1986-1996
When I finished high school, my father encouraged me to join the Army. I had family members who had served in the military, so I decided to join. I stayed mostly stateside and worked as a truck driver delivering supplies.
I was stationed at Fort Ord, CA when the Loma Prieta earthquake hit in 1989. I had just finished work and was outside. Looking up, I saw the sky filled with birds. Suddenly things began to shake, and I actually saw the ground ripple. While this lasted for only a few seconds, it felt like minutes. We were put on high alert and they dispatched us to provide help. There were many poor individuals and undocumented immigrants living in the area. With their homes destroyed, they fled to the woods to live. We took five-ton trucks and handed out water, food, and supplies. We were able to help so many of them. We set up a huge tent city, and people were very happy to receive help because so many had lost everything. It was during this time that I received a Humanitarian Service Medal.
In 1990, I served in Dessert Storm—a rewarding experience! I received the National Defense Service Medal while serving here. We completed small missions and didn't get too close to the front lines. It was mostly an air campaign at that time—we could hear the noise, but we never got close enough to see combat. We delivered ammunition and supplies, did a lot of waiting, and performed numerous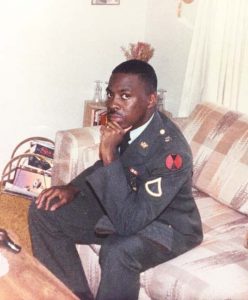 mock drills with our chemical masks.
After serving ten years in the Army, I went back to school and graduated as an X-ray technologist in 2000. I moved back to Virginia in 2011 and worked in the Farmville hospital for a time. My brother lives in Charlottesville, so when I saw an opening at UVA I applied. I've been working here going on three years now and consider UVA to be a wonderful place to work.
The military prepared me well for working with a team. I work in the Fluoroscopy Department with six other people. We're a small department within radiology, the same six all the time. We know each other's strengths and each other's weaknesses and are stronger as a team. When we come together and tackle a challenge, we can fix it. As a team, we can make it work.