Thomas Huerta
Lead Quality Assurance Technologist, MRI
Army 1983-1989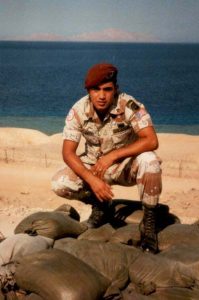 I started off in the infantry with the 82nd Airborne Division. Ironically, I'm a little afraid of heights and thought that if I learned to jump out of airplanes, I would get rid of my fear. After more than fifty jumps out of airplanes, it didn't work. Even today, when I'm up high, it's hard for me to look down. But I learned a very important lesson: Don't let your fear dictate what you can and cannot do.
I traveled to Panama, Honduras, Ireland, Egypt, Israel, Germany, and the Caribbean. Egypt was my favorite place. On our time off we saw the pyramids, went to Cairo, and learned a lot about Arabic culture. I received a Parachutist Badge, a Combat Infantry Badge, and two Good Conduct medals, among several others.
After four years in the infantry, I decided to go to X-ray school and become an X-ray technologist. I waited a year after school for a position in the hospital. In the meantime, I was still an infantry soldier. When I finally got into the hospital, I worked weekends and went to school during the week in order to obtain my bachelor's degree. One day in 1988, I saw my first MRI images. This technology had just been introduced a few years before, and they didn't have MRI at Womack Army Hospital where I worked. A doctor brought in some MRI films and hung them up. I asked what they were, and he told me about this new technology called MRI. In my head I said to myself, "I'm going to do that one day." And I did.
In 2003, I accepted a position as an MRI tech at UVA. I was living in Jacksonville, FL and wasn't learning much at my job. A friend told me about an open position at UVA, so I interviewed and ended up here. The different things you can do with MRI are amazing, and I enjoy that at UVA there's always something new to learn.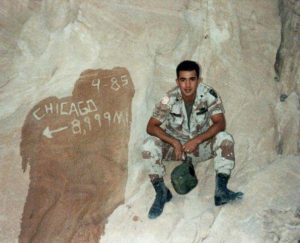 My service in the military still affects me today. The infantry teaches you to adapt, adjust, and improvise. It's hard to say, "I can't do this," because there are other ways of looking at the problem. Working with limited supplies or weapons on a mission teaches you to look at a problem in different ways and figure out a creative solution. I apply the same concept to Radiology and other aspects of my life. "What do you mean it can't be done?" I ask. "There's always a way."
---