A Day in the Life of UVA Resident Geoff Miller, M.D.
New and prospective residents are often curious about what their daily life will be like at UVA. Here's a typical day described by Geoff Miller, one of our third-year diagnostic radiology residents.
6:30 am – 7:00 am: Eyes Open
If you don't drink coffee yet, you will. For me, every day of residency starts with that rich, earthy smell and a warm cup in my hand.
Today, it's Tuesday, which means we have Morning Case Conference. After a shower and a quick breakfast, I pour coffee into my Oklahoma travel mug—Go Sooners!—and head over to the hospital. I pull into my spot right at 7:00am, which gives me enough time to get to the Radiology Department for Conference without having to hurry.
---
7:15 am – 8:00 am: Case Conference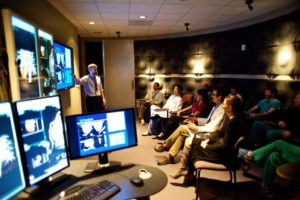 I arrive at Moss, our small departmental auditorium, and find a seat in the middle. Dr. Wilkins, one of our interventional radiologists, is already up front, pulling up the case he will be going over. I'm excited that he is presenting, because I am planning to apply for the Early Specialization in Interventional Radiology (ESIR) track at the end of this year.
Other residents are filing in, scanning their badges at the door to record their attendance. I chat for a minute with those around me, but we are all a little tired and nervous. During Case Conference, the presenter can call on anyone at any moment and ask them anything about the case. As a first year, I was able to sit back and watch the show. This year, I'm fair game, and it's a nerve-wracking experience.
I try the classic "don't make eye contact" trick, but somehow I just know that today is the day. Sure enough, shortly after Dr. Wilkins starts going over the case, he fires a tough question at me. Sweat blooms on my forehead. I brush it away and fumble through an answer, and immediately Dr. Wilkins fires off a follow-up question. For the rest of the case, he returns to me over and over again.
At 8:00, I let out a deep breath. Conference is over, and I've survived my first experience on the hot seat. It was intense, but I will never forget this case, and I realize that I actually feel more confident in my knowledge now.
---
8:00 am – Noon: Clinical Service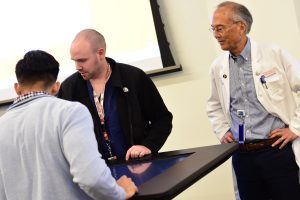 It's time to check into one of the reading rooms, and this morning I am headed to Chest. For now, I'm still reading mostly ER studies, just as I was during first year. That's a good thing, though, because it allows me to get great experience and preparation for taking call.
Other residents report to different divisions like Pediatric, Musculoskeletal, or Breast Imaging. Having different residents working in different sections divides the responsibilities and optimizes patient care. All residents are responsible for performing several other clinical duties throughout the day. We perform procedures, protocol studies, answer patients' questions, communicate with other hospital personnel, and teach medical students. All before lunch.
Today, I pull up the queue for Emergency and get started. The good thing about Emergency is that I get a wide variety of cases across different modalities. In the Chest reading room, I read X-rays and CTs, which help me prepare for when I'm on call later. "On call" just means that I will interpret and dictate all imaging studies ordered during an after-hours shift.
My first case this morning is an ER CXR asking us to rule out pneumonia. For the next hour I read various studies, from other X-rays to a complex CT of the chest that I have some questions about. After two hours, I check out with Dr. Hanley, one of our Body Imaging Attendings. He goes over the CT that was giving me some trouble, and we talk through the image together before he signs off on it. Then I'm back at it.
Once more before lunch time, I check out with him to go over the other tricky cases that have come up. Then my stomach tells me it's noon, and I hurry to the cafeteria to grab lunch before Noon Conference.
---
Noon – 1:15 pm: Noon Conference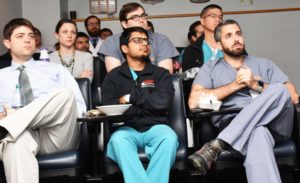 I'm back in Moss with a salad and a few seconds to spare. Just enough time to pour my dressing before Dr. Anderson, one of our musculoskeletal radiologists gets started with his lecture. Unlike the morning, Noon Conference is didactic and doesn't involve the same intense questioning.
---
Daily lectures cover a wide variety of topics that help us improve on our clinical skills while also helping us prepare for future board exams. The pointers we get make us better radiologists so that when we're looking at cases by ourselves we're able to make the correct diagnosis. 
Dr. Anderson dives in, presenting on primary bone malignancies and how they might appear on X-ray, CT, and MRI. He gives us different tips on how to come to the correct diagnosis for each tumor. The entire lecture is interactive and engaging.
---
1:15 – 5:00 pm: Clinical Service
After a quick stop by the coffee shop—located a conveniently short walk away from the Radiology Department—it's back to the reading room for me. My duties are the same, but it's much busier this afternoon than in the morning. At this point, patients have had time to present to the Emergency Department. Other patients transfer in from other hospitals. We work hard to accurately and efficiently interpret all the ordered studies.
---
5:00 pm – 8:00 pm: Swing Shift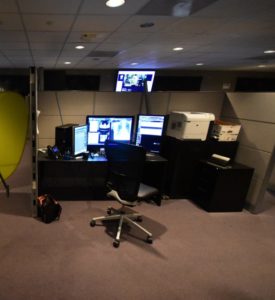 Tonight, my friend Daniel and I are on call for a "swing shift" together. This happens about once a week for every resident. We dictate studies ordered for the in-hospital patients and patients in the Emergency Department. It's usually busy during this time.
Being on call is one of the more challenging parts of our training. But it's also one of the best. It can be stressful, but it also gives us an opportunity to have some autonomy that we don't get in quite the same way during clinical service throughout the day.
I'm the 1404 resident and Daniel is the 1590 resident. This corresponds with the numbers on the pagers we carry. Each of us handles reading different types of images. As the 1404, I read X-rays, CTs of the brain and spine, and ultrasounds. Daniel reads all the CTAs, CT chest, abdomen and pelvis scans, and MRIs. We're both in the same room, so we help each other. And of course, if we're stuck, one of the Attending Radiologists is always available. Swing shift allows us a bit of freedom, but assistance is readily available if we need it.
---
8:00 pm – Books and Bedtime
Before I know it, it's 8:00. It was a busy shift, but it's time to pass things over to Siobhan and Adam who will be on call for the night shift. I head home to hit the books for a few hours before bed to prepare for tomorrow and getting back to it. There's not a whole lot of down time, especially not on a swing shift night, but every day I get to learn and experience something new. Another busy but engaging day in the books. I'm excited to see what tomorrow brings!