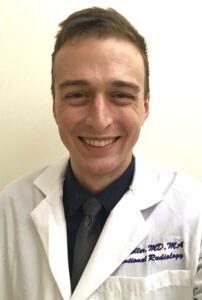 Applied Ethics in Radiology: Practical Approaches to a Challenging Situation
Dr. Eric J. Keller, MD, MA
Wednesday, October 14th
8:00-9:00pm EST
The word 'ethics' might conjure up images of verbose theoretical texts that have little relation to your real-world experiences. It's hard to imagine how a discussion of ethics could actually impact the ways you think and act as a radiologist or radiology care provider.
But Dr. Eric J. Keller, MD, MA, is creating a new literature of applied ethics in radiology. This practical, case-based presentation doesn't resemble the dry texts and discussions you might remember from an undergraduate philosophy course – applied ethics isn't concerned with telling you what you should or shouldn't do, based on a theoretical system. Rather, it's a descriptive, analytical approach that examines the ways that people are engaging with difficult questions in the real world. Dr. Keller presented four case studies that asked specific ethical questions relevant to radiology, including consent, AI, research, or the question of futile vs. palliative care.
About the Lecturer
Dr. Eric J. Keller, MD. MA, is a current IR/DR resident at Stanford University and has an MA in Medical Humanities and Bioethics from Northwestern University. He co-chairs the Society for Interventional Radiology (SIR)'s 'Ethics in IR' working group. Follow Dr. Keller on Twitter at @IR_Ethics.
Additional Resources
Futility
Consent
Research Ethics
AI Ethics
Business Ethics
Dealing with Complications