In December 2020, UVA Pediatric Radiology piloted new virtual consult rooms, which allow pediatric radiologists to review patient images with a requesting provider or group of providers while maintaining safe physical distancing in this time of COVID-19.
Dr. Reza Daugherty, Chief of Pediatric Imaging at UVA, learned about the idea from fellow chiefs at this year's Society for Pediatric Radiology meeting in October. He was immediately excited about the possibility of providing a safe and secure way to consult with other providers.
Through a portal on the UVA Radiology intranet, as well as a new app, physicians across UVA Health can request a virtual consult by calling the pediatric concierge. The concierge finds an available pediatric radiologist and notifies them of the virtual consult request. The concierge then directs the requesting physician to one of three virtual reading rooms, for either Dr. Daugherty, Dr. Luke Lancaster or Dr. Marcus Hook.
Once inside the room, which uses the UVA WebEx platform, radiologists can share images and discuss findings with the requesting physician. Radiologists also have the ability to annotate images.
The virtual reading rooms are particularly useful for discussing findings with larger groups. Group conferences can be difficult to schedule in person, especially now with COVID-19. But the virtual consult rooms allow multiple physicians to log on and hear findings, saving radiologists from having to repeat findings several times.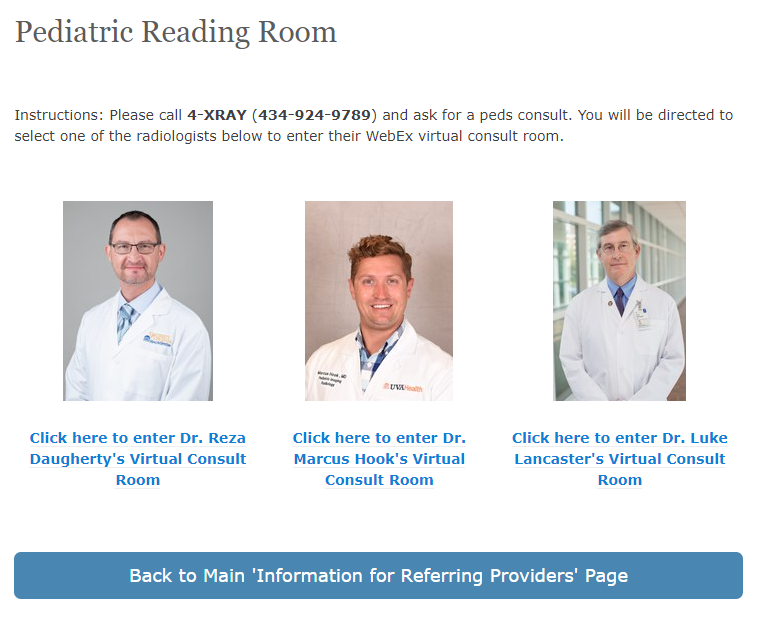 Especially with COVID-19 a fact of daily life, the new virtual reading rooms are helpful if a particular subspecialist would prefer not to come into a reading room in person. "Pediatric imaging is so integrated into clinical services," says Dr. Daugherty, "that we can't really limit time in the reading room. But this is really helpful if subspecialists don't have time to come down and visit with us in person, or if they don't feel comfortable sharing a room."
Feedback from requesting providers has been uniformly positive so far. Dr. Jeremy Middleton, a UVA Pediatric Gastroenterologist, actually prefers the virtual reading room to the physical room:
My experience with the virtual consult room was nothing but positive and was even better than meeting in the radiology reading room where there are often distractions. I was able to seamlessly join a video conference with Dr. Daugherty to review, in real time, an MRI and discuss not only the patient's history and my concerns but his thinking about the radiographic findings. It is an incredibly efficient way to improve provider communication and patient care.
You can check out the virtual reading room platform by clicking here.