Wondering what daily life in the UVA Diagnostic Radiology Residency program will look like? Below, current fourth year resident (and 2021-2022 Chief Resident) Nicole Kapral walks us through a typical day in her residency.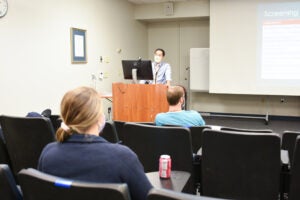 7:15 – 8:00 am: Case Conference
I arrive at Moss Auditorium with my famous Charlottesville Bodo's Bagels breakfast sandwich just before 7:15 am so I can chat with my friends for a few minutes before conference begins. Dr. Jonathan Nguyen, one of our breast imagers, is presenting interesting and classic mammography cases.  I volunteer for the first case, stating the type of exam, relevant findings, a differential diagnosis and BIRADS category with respective follow-up recommendations.  It can be intimidating, but everyone is supportive and encouraging, trying to make sure we all get the most out of each case.  Afterwards, the attending points out the relevant findings and how they would have approached the study. My favorite part of mammography is that there are regulated standards to ensure we are giving patients the best care possible and recommending the appropriate amount of follow-up imaging or biopsies to catch as many cancers as possible. While on the mammography rotation we are integrated into the care team reading mammograms, performing biopsies on patients and calling with results.
No matter who is presenting, morning case conferences are a low-stakes and engaging way to practice radiology with instant feedback. After conference, we linger to chat for a few minutes then run to grab (or refill) our coffee before reporting to our assigned clinical services.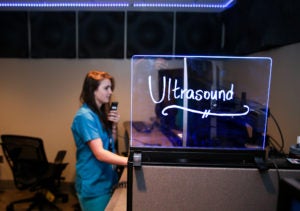 8:00 am – noon: Clinical Service
I am assigned to abdominal imaging where I get to start reading and interpreting adult ultrasounds.  This is a great rotation because we get to hang out in the newly renovated body reading room with multiple TV monitors and colorful lighting throughout the room.  I also enjoy breaking up t
he day by spending part of my time reading ultrasounds and part of my day performing ultrasound guided procedures such as paracentesis or liver biopsies, just to name a few.
The other residents all report to their various rotations including pediatrics, body, breast imaging, thoracic, interventional radiology and more. My friend Anson Chen is currently on pediatric imaging where they read plain films, CTs, ultrasounds and MRIs.  In the morning, he will walk to the outpatient center with the attending where they are performing contrast-enhanced voiding urosonography, a recently approved technique which replaces VCUGs (voiding cystourethrograms) and avoids radiation in children.
Our job is so much fun because there are multiple aspects to it aside from just reading images. We perform various procedures, speak to patients and clinicians, complete study protocols and teach medical/nursing students.
Noon – 1:15 pm: Noon Conference
All that excitement can make a resident (me!) pretty hungry.  Noon conference is the time for us to step away from the screens, get some food, meet back up with friends and listen to a lecture from one of our many great faculty members.
First things first – the food. If you don't want to pack lunch or go to the cafeteria, 'The Corner' is right across the street with a variety of food options; Roots' giant salad bowls are probably one of the favorites (I'm not the only one – we've set up a location in the hospital for bulk deliveries).
Lecturing today is Dr. Juliana Bueno, giving one of many of her many amazing presentations on thoracic imaging. The lecture topics generally rotate by specialty each week, with individual days focused on a variety of topics to help us improve our clinical skills as well as prepare for future board exams. They're full of useful facts and images from cases the faculty have seen over the years, which keep residents engaged and interacting.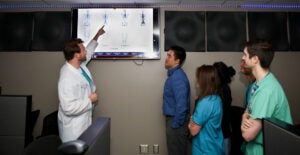 1:15 – 5:00 pm: Clinical Service
A little less hungry, I return to the body reading room and continue the work from this morning. It's typically more of the same responsibilities, but more exams have been ordered and more people have come into the Emergency Department while I was away. I work hard to read all the ED and inpatient exams. Though we read as much of the list as we can, education comes first, and we are responsible for learning more than emptying lists. Once 5:00 pm rolls around, I make sure there are no emergent studies left, sign out anything I have pending, and my work is done for the day (usually) . . .
5:00 – 8:00 pm: Swing Shift
Tonight, I'll be sticking around until 8:00 pm for a swing shift with my friend Neal Desai. We do these shifts about once a week or every other week after first year. From 5:00 – 8:00 pm, the two of us are "on call," meaning we interpret all the imaging studies for the Emergency Department and inpatients during this time.
It's usually a busy couple of hours, but it's also a time that we learn and grow the most. We are signing reports with less supervision and make more of our own clinical decisions. Though it can be stressful at times, we learn to be quick and efficient, communicate with providers and trust ourselves.
Tonight, I'm reading CTAs and CT chest/abdomen/pelvis while Neal reads radiographs, CTs of the brain and spine and ultrasounds.  Even though we're assigned separate studies, we're always willing to help each other out if someone sees something new or has a question. This call shift allows for autonomy, but there's always a fellow or attending available if we get in a real bind.
8:00 pm: The Day Ends
Yay, swing shift has ended. The two nighttime residents come in to take over, doing essentially the same thing we just did on swing, but from 8:00 pm – 8:00 am.
I head home to see my kids before bed and prepare for the next morning. Some people are off to the gym or to get dinner (no way I can wait until 8:00 pm for dinner). I set my alarm, eager to see all my coworkers/friends and find out what exciting cases await me tomorrow.