This article is one in a series of articles highlighting different modality teams at UVA Radiology. We've previously gotten to know teams and people in mammography, radiology nursing, diagnostic radiology, CT, and other areas that support clinical care. Today, we turn to MRI.
Every hour of every day, there is a team at UVA Health ready to perform MRIs.
Twenty-five MRI technologists, Radiology Clinical Associates (RCAs) and an RN safely and compassionately image every patient who comes their way. That includes emergency room patients who need a scan immediately, inpatients under general anesthesia, or outpatients who need complex scans they can't get anywhere else.
The MRI team will image 30-40 patients on a typical day, in one of five MRI machines located in the main hospital campus, the Education Resource Center, and a mobile MRI facility. Imaging so many different types of patients, often with complex medical needs, is no simple task.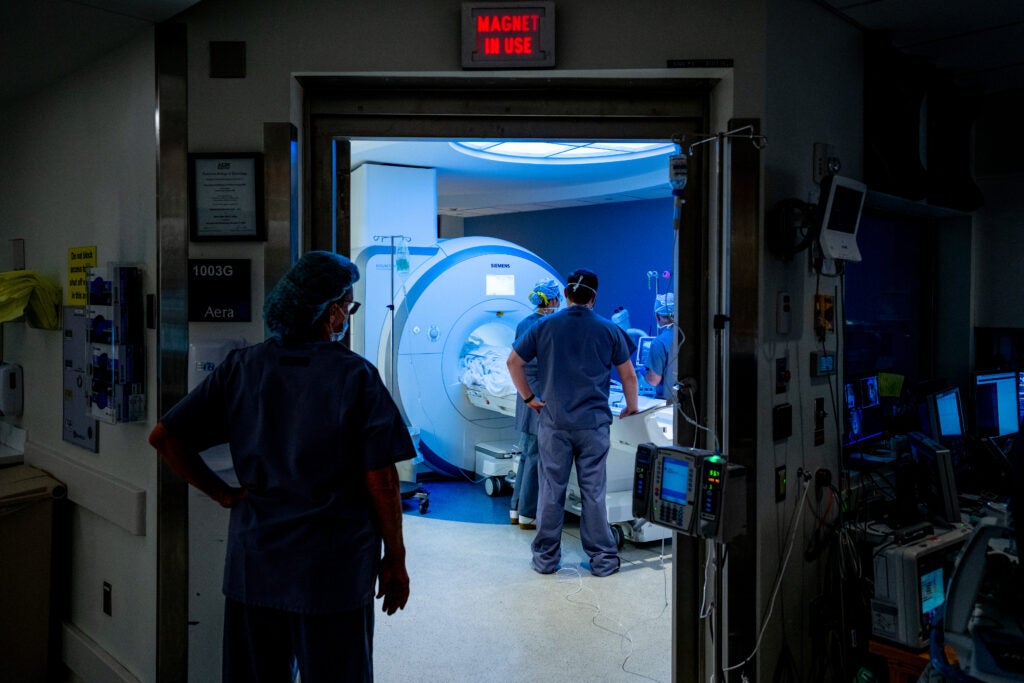 An Intricate Dance
The MRI department at UVA Health isn't like a typical outpatient MRI imaging center. Outpatient centers perform more routine diagnostic MRI scans, imaging organs, joints and other soft tissue. Those outpatient centers are able to give patients contrast and also medication to help with anxiety and claustrophobia.
But the MRI team inside the hospital must scan inpatients, who may be more seriously ill or incapacitated, as well as patients who require general anesthesia. They can scan patients with implantable medical devices like pacemakers, which require special safety protocols. And, in general, they perform the more complex scans that outpatient centers and other regional hospitals cannot do.
That means that no two patients or MRI scans are the same. For the MRI team, each day is an intricate dance of patients coming from all areas of the hospital with a dizzying array of medical needs. And increasingly, in winter 2022, COVID-positive patients need to be imaged, too: as many as five a day. That requires an entire system of safety precautions to be put in place while those patients move through the scanner rooms and hallways.
The team thrives under these conditions. "We do really well at handling stressful situations together and helping each other out," says Caitlin Roth, Imaging Supervisor for MRI. "At the end of the day, we know we are here for our patients."
With Their Patients at Every Step
There are dozens of different scans the MRI team must perform on a daily basis. Some last just 15 minutes – others, two hours. Some require special contrast. Some are functional tests, which show how the heart or digestive system, for example, are working in real time. From brains to the spine, the abdomen, joints, knees, blood vessels, hearts, bowels – every area of the body, with few exceptions, can be imaged using MRI.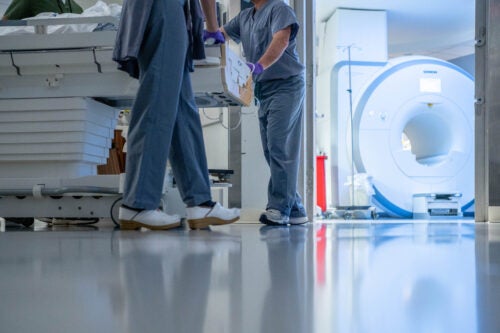 No matter who a patient is or what they need an MRI for, MRI technologists are there to guide them through the process from beginning to end. They also control the actual MRI machine and make sure it performs the correct sequences needed to image each patient.
Technologists greet outpatients in the waiting room. They take them back to the MRI area, perform screening protocols and carefully review safety and implant information. They help patients change and start an IV, if needed. If the patient needs sedation, they coordinate with the anesthesia team. Then they bring patients to the scanner rooms, position the patient on the MRI table and perform the actual scans from the adjacent control room. Afterwards, they help patients out of the scanner, remove any IV lines, and bring them back out to the waiting room.
Safety Comes First
"Safety is the first priority of our team," says Caitlin. "Sometimes it feels like we're airport security, preventing others from bringing things into the scan room that could be dangerous to the patient or to our team."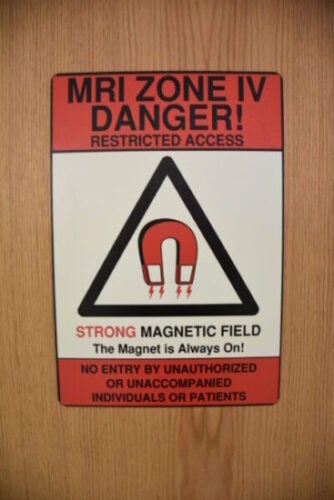 MRIs use magnetic fields to create detailed images of the inside of the body. When a patient lies inside an MRI scanner, the magnetic field created by the powerful magnets in the machine temporarily realign water molecules in the body. These aligned atoms allow the machine to generate cross-sectional images, like slices of bread, of the inside of the patient's body.
The magnetic field inside a scanner is extremely powerful. On a 1.5 Tesla (a unit of magnetic measurement) MRI machine, the field is 30,000 times stronger than the one on earth. And the field cannot be turned off – the MRI magnets operate at all times.
With that powerful magnetic field comes risk: any metal in a scanner room can be extremely dangerous for patients and staff. Chairs, carts and fire extinguishers can become dangerous flying objects, strike people, or get stuck in the bore of the machine, pulled in by the powerful magnetic field.
Laura Calise is a Lead MRI Technologist and the Safety Officer for the MRI team. Her job is to make sure that the entire team is aware of the correct safety protocols and is consistently following them.
"Everyone plays an important role in MRI safety," Laura says, "Everybody has to do their part to keep our patients safe. You can't be lax about it – it requires being on top of it all the time."
Besides creating protocols for things like a fire in the MRI department – a dangerous situation, given that firefighters cannot use their typical equipment in a scanner room because it would get sucked into the machine (along with the firefighters) – Laura researches and creates policies for imaging patients with specific implantable medical devices, like pacemakers.
This is an area where safety is particularly important. The idea seems, at first, impossible: how can you subject a patient to a powerful magnetic field when they have a complex medical device with metal parts inside their body?
It's a relatively recent and vitally important breakthrough. "Nine years ago, when I started here at UVA, we didn't do any pacemakers at all (in MRI)," says Caitlin. "Now we do at least one a day."
Pacemakers are more complex to scan, compared to other implants, and they have to go through a rigorous approval process involving three different services, to make sure that scans are truly needed and can be done safely. "We truly are the workhorses for all kinds of implants and pacemakers," says Caitlin.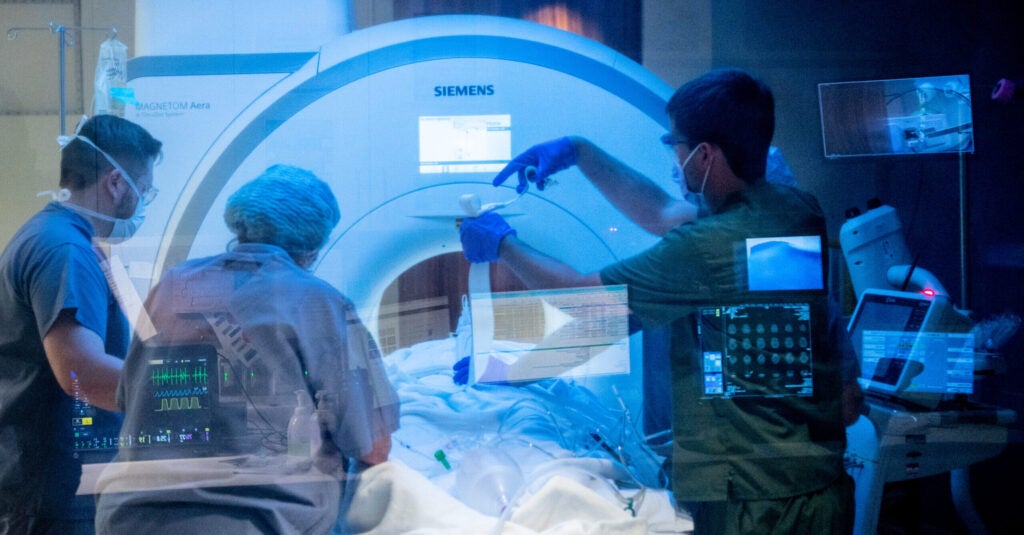 Teaming Up With Off-Site Anesthesia
Exemplifying the daily complexity in MRI is the team's close relationship with Off-Site Anesthesia nurses, who move across the hospital prepping patients and supporting attendings who administer anesthesia. They work in places that don't have dedicated nursing teams to do this.
Paula Schenck, RN Clinician IV, coordinates the five-person team of off-site anesthesia nurses: Amy Jordan, Patricia Finneran, David Pollak and Melanie Zobell. They work in a different space, with a different team around them, every day. It's a challenge that not everyone wants to tackle.
"You have to be autonomous in this position," Paula says. "We are usually in places where there may not be a lot of support. So you have to be comfortable in your own practice. Self-motivated, independent, thinking outside the box, and prepared for emergencies."
It's not for everyone, but her team loves it. Combined, they have 60 years experience in off-site anesthesia, and 118 total years of nursing experience. It's a high-powered group that Paula is proud of.
"In Radiology, we're regularly in MRI, CT, fluoroscopy, Nuclear Medicine, ultrasound, in the Emily Couric Clinical Cancer Center, and neuroradiology," says Paula. Her team gets patients ready for sedation, helps move them in and out of a scanner safely while sedated, monitors them during a scan, and helps with recovery. "We do all these roles, same as in the OR," Paula says, "But it's a traveling show."
MRI brings particular challenges because of the magnets present. Any devices, controls or pumps regularly used in patients with anesthesia that are not compatible with the MRI machine could quickly become dangerous for the patient and for staff.
"For us, the biggest challenge is that you can't take things into a scanner that you would normally have," says Paula. "You can't run in and out of the scan room with things like IVAC pumps, stethoscopes or Vocera devices, because of the magnets. We have to do everything from outside of the room and run tubing through the door." Doing so safely requires close communication with MRI techs.
The two teams have a great relationship, Paula says, born out of years of working together. "Our focus is safety," she says, "Just like theirs. We depend on the MRI team to keep our patients safe, to clear devices in our patients, to interview them pre-scan and make sure a scan is safe for them. We really rely on their expertise."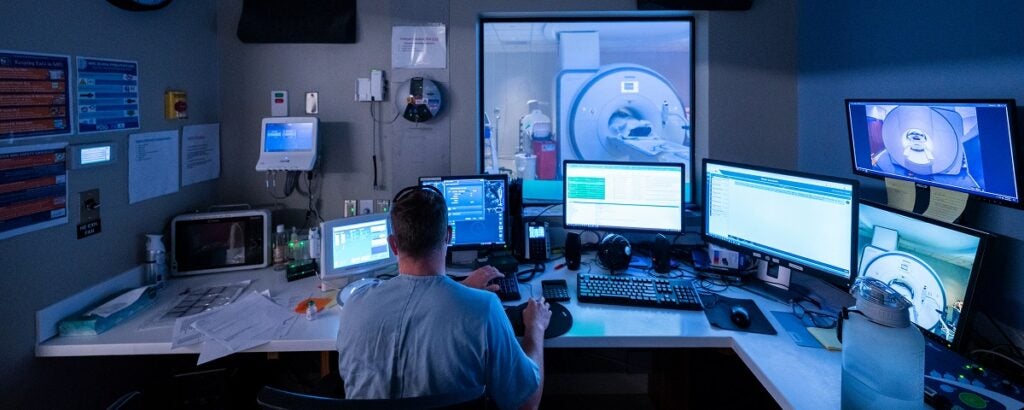 Always Striving to Be Better
The MRI team is always looking for ways to improve their safety protocols, image quality and patient care. Their focus isn't on how well they did today: it's on being better tomorrow.
Thomas Huerta is the Lead MRI Technologist and the Quality Assurance Lead for MRI. QA is concerned with making sure that scans are of the best possible quality, leading to improved diagnoses and outcomes for patients. Thomas helps create protocols for each type of exam, so techs can follow a set of instructions to get the best possible outcome, while also making sure patients can spend the least amount of time in a scanner.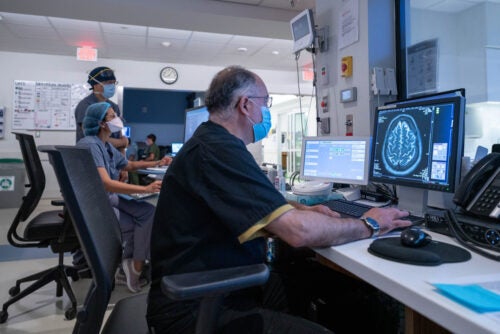 "Sometimes, mistakes happen," he says. "A sequence didn't work, so we have to call a patient back. We go back over it with the tech who did it, and we show them alternatives, what to look for, and how to fix it. We're always trying to make things better."
That focus on improvement is personal for Thomas. "I love what I do, so I'm always reading about it. I've been (imaging patients) since 1992, when I started with x-rays while I was in the army. I learned early on that if you want to learn things, you have to learn it from people who know what they're doing. Experts."
Thomas now serves as that kind of expert for his colleagues.
"What we do is about experience, but it's also about seeking knowledge. I really believe that our team is very well experienced. I hear, all the time, from new hires, or people visiting, that we are very advanced in what we do. We do a lot of exams here that they typically don't do in other places."
But it's not enough, for Thomas, to be satisfied with what you already know.
"I always tell team members, 'If you want to learn something, you have to ask,'" he says. "And I always encourage them to learn more, regardless of where they start."