Wednesday, October 26, 2022
Speaker: Alan Matsumoto, MD
Panelists: Dhara Kinariwala, MD; Timothy Rooney, MD; Amy Taylor, MD
Moderator: Ziv Haskal, MD

---
About the Speaker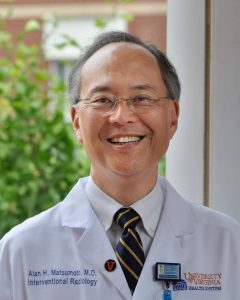 Alan Matsumoto, MD, FSIR
Chair and Theodore E. Keats Professor of Radiology and Medical Imaging, University of Virginia
Alan H. Matsumoto, M.D. FSIR, FACR, FAHA, received his Bachelor's and Master's Degrees from the University of California at Santa Barbara, where he was elected to Phi Beta Kappa and Sigma Xi Honor Societies. After completing his medical degree in 1980 from Bowman Gray School of Medicine of Wake Forest University and being elected to the Alpha Omega Alpha Honor Society, Dr. Matsumoto completed residencies in internal medicine at the University of Massachusetts and diagnostic radiology at the University of North Carolina. He also had additional fellowship training in vascular and interventional radiology at Georgetown University. Dr. Matsumoto is board certified in internal medicine, diagnostic radiology and cardiovascular and interventional radiology.
His clinical practice includes image-guided, minimally invasive therapy for arterial occlusive and aneurysmal disease inclusive of abdominal and thoracic aortic stent grafts; renal, peripheral, and mesenteric vascular disease; fibromuscular dysplasia of the renal arteries; DVT and PE thrombolysis and mechanical thrombectomy; IVC filters; embolization and MR guided focused ultrasound therapy for fibroids and other tumors.
He is a professor of radiology and chair of the Department of Radiology at the University of Virginia. He has pioneered many novel and innovative, minimally invasive, image-guided procedures during his 20 years at the University of Virginia, many of which have become incorporated into practice at many nationally recognized medical facilities. He has published more than 180 articles and book chapters and has trained more than 100 residents and fellows. His patient-oriented, multidisciplinary collaboration with other medical specialists has led to optimization of care in patients with complex diseases.
---
About the Panelists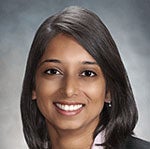 Dhara Kinariwala, MD
R6, Integrated IR Residency, University of Virginia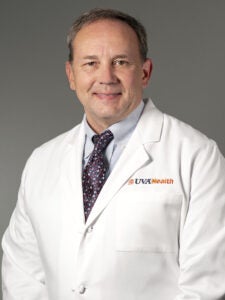 Timothy Rooney, MD
Associate Professor of Radiology and Medical Imaging; Chief of Breast Imaging, University of Virginia
Timothy B. Rooney, MD, is the division lead of breast imaging in the UVA Department of Radiology and Medical Imaging. He is a board-certified diagnostic radiologist with fellowship training in breast imaging.
Dr. Rooney uses the most advanced imaging tools to uncover breast cancer — second only to skin cancer as the most commonly diagnosed cancer. Dr. Rooney specializes in breast MRI, 3D breast imaging, and breast MRI-guided biopsy.
Born in Salinas, California, Dr. Rooney grew up in many locations on the west and east coasts. He attended Dartmouth College, where he studied earth sciences and was a member of the lightweight men's rowing crew team. After college, he joined the U.S. Navy and became a fighter/adversary pilot, before returning to medical school at Dartmouth. The second half of his Navy career was spent as a physician/radiologist.
After retiring from the Navy, he worked as a radiologist in Europe, where he cared for our deployed military and their families. Before joining UVA in 2021, he worked as a breast radiologist, assistant program director, and director of global health at Dartmouth-Hitchcock Medical Center in Lebanon, New Hampshire.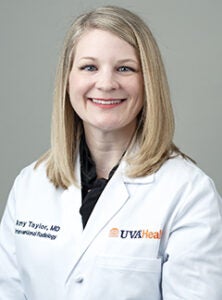 Amy Taylor, MD
Assistant Professor of Radiology and Medical Imaging; Associate Program Director for the Independent IR Residency, University of Virginia
Amy C. Taylor, MD, is a member of the interventional radiology team that provides minimally invasive, image-guided therapies for a variety of medical conditions, including arterial disease, cancer, biliary disorders, and venous disease. She is also involved in educating and training medical students, residents, and fellows in interventional radiology. She is an active participant in the Society of Interventional Radiology (SIR) and serves as a committee chair for the SIR Foundation.
After completing an internal medicine residency at Yale University, she practiced as a full-time hospitalist for one year. She then completed a second residency in diagnostic radiology at the University of Florida, followed by a fellowship in vascular and interventional radiology at the Medical College of Wisconsin. She worked in private practice in Little Rock, Arkansas, for two years before joining the faculty at UVA in 2020.
She was born and raised in Little Rock, Arkansas, and completed both her undergraduate and medical degrees at the University of Arkansas.
---
About the Moderator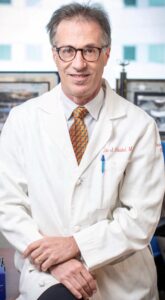 Dr. Ziv Haskal, MD, FSIR
Professor of Radiology and Medical Imaging, University of Virginia
Dr. Haskal is a tenured professor of radiology and medical imaging in the Division of Interventional Radiology at the University of Virginia School of Medicine. He received his M.D. at Boston University School of Medicine and completed residency and fellowship at the University of California, San Francisco. As a sought after teacher and educator, Dr. Haskal has given more than 500 invited lectures worldwide and been awarded numerous honorary fellowships, national, international and societal awards for leadership, service and research excellence. He has designed, participated or led more than 40 research trials. Dr. Haskal has also published more than 400 scientific manuscripts, chapters, review, abstracts and editorials in journals ranging from Human Gene Therapy and the New England Journal of Medicine, to Circulation, JVIR, Radiology, Hepatology and more. Dr. Haskal was the editor in chief of the Journal of Vascular and Interventional Radiology (JVIR) from 2011-2020, doubling its manuscript submissions, raising its impact factor and introducing numerous print, electronic and new media offerings.
---