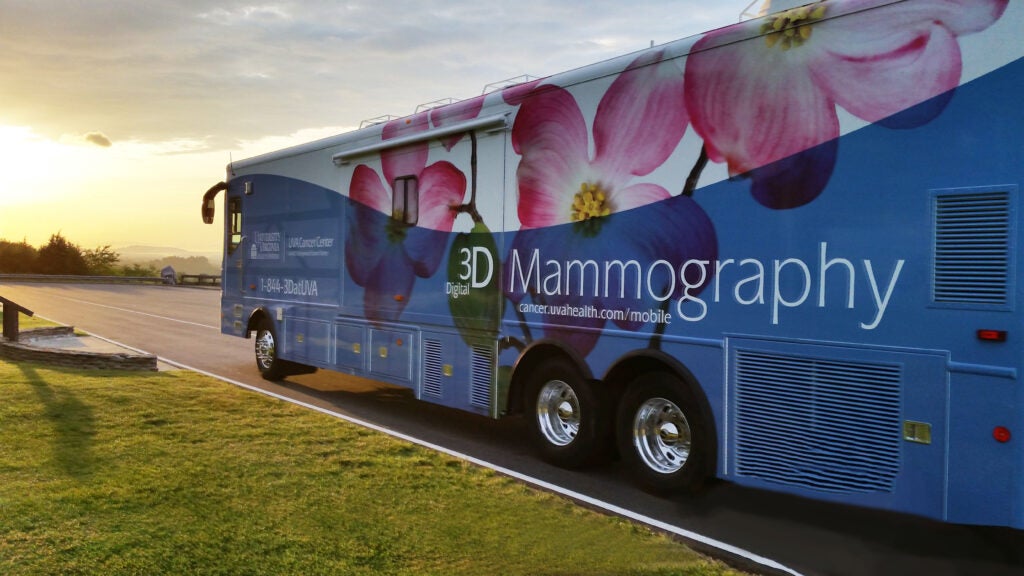 Since 2003, the UVA Mobile Mammography Coach has brought preventative breast screening to thousands of women across Virginia who wouldn't otherwise have access to mammograms.
Many women whom the coach serves lack health insurance or live in communities without breast screening facilities. Through partnerships with state programs as well as grants, most women screened in the mobile coach receive free or low-cost mammograms, meaning that cost is never a barrier for care. By bringing comprehensive breast screening directly to patients' doors, UVA Health can widen the communities it serves, providing mobile patients the same compassion and expertise as patients in UVA Health's hospitals and clinics.
The mobile mammography program is a labor of love for the UVA Breast Care Center, and especially for the technologists, coordinators and drivers who keep the coach on the road. "It's very fulfilling for our team to go out and bring this service to the public," says Marie Barnett, Supervisor of the Mobile Mammography Program. "It's a rewarding job in that aspect—reaching people who might not be able to reach us."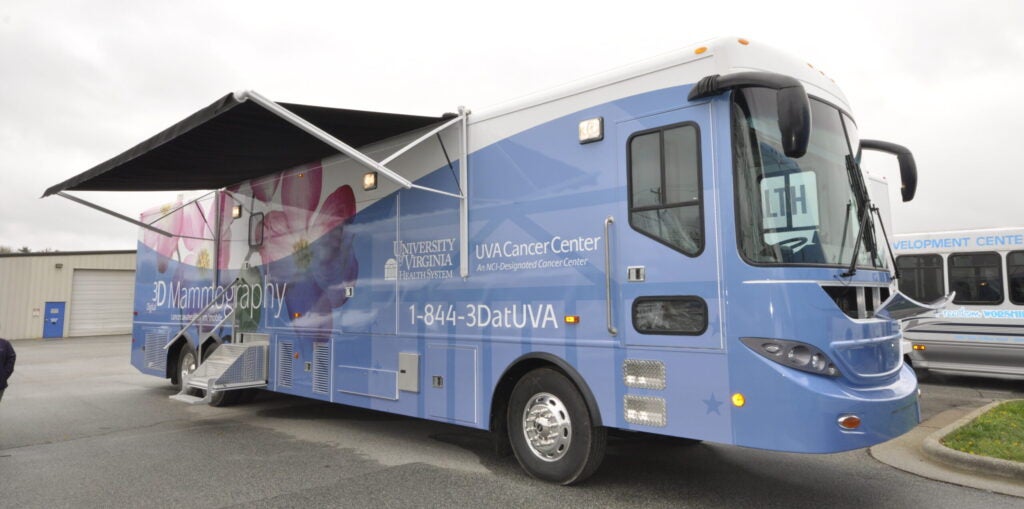 On the Road With the Mobile Coach
The UVA mobile mammography coach is on the road nearly every day, traveling across Virginia to sites as far as three hours away from Charlottesville.
The coach makes regular stops at many primary care and family care practices, including those in Augusta, Stoney Creek, Orange, Louisa, Riverside and Locust Grove. At these locations, patients can have their annual mammograms performed on the coach, saving a trip to imaging centers that might be farther away.
The coach also visits a wide variety of sites on an annual or semi-annual basis, including churches, community centers, health clinics and government offices. It also takes part in health fairs and other community gatherings. Each of these trips requires that a minimum of 10 patients be signed up for mammograms. The mobile mammography staff works closely with community partners to market each visit and help spread the word to potential patients.
The mobile coach travels with two UVA Breast Care staff members—a driver, who also acts as a registrationist checking patients in; and a technologist, who works directly with patients to position them for their screening and uses the scanner to take images. The two mammography technologists who travel with the UVA mammography coach are Lynette Narciso and Terri Shelor. The two mobile coach drivers are Jesse Johnson and Brian Meadows.
The mammography unit on the coach is capable of performing both 2D and 3D mammograms and can scan up to 25 patients per day. The unit is fully certified by the FDA and accredited by the American College of Radiology, just like all of UVA Health's static mammography units. The coach is designed to be spacious and comfortable, with air conditioning, a dressing room and a reception area. It's also fully wheelchair accessible.
Ensuring Cost is Never a Barrier to Care
The mobile mammography team works hard to make sure that no patient is turned away from the mobile mammography coach because they don't have insurance or can't afford to pay for their mammogram.
For patients with health insurance, mammography is covered as an annual preventative benefit. This coverage includes mobile mammograms.
For patients without insurance, the mobile mammography team has several tools at their disposal to help make mobile mammograms no-cost. One option is a Virginia public health initiative called Every Women's Life, which can cover the cost of mammograms for uninsured, low-income patients.
Looking Ahead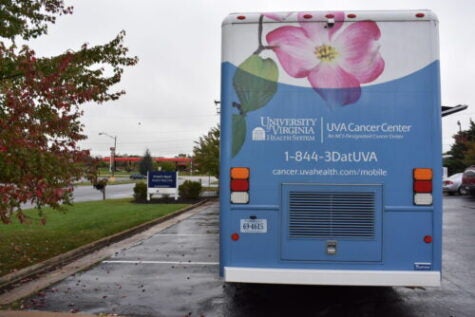 As the 20th anniversary of the UVA mobile mammography program approaches, plans are underway to replace the current vehicle and mammography scanner. A new UVA mammography coach will hit the road sometime in the next year or two, bringing the latest technology as well as modern comforts directly to patients. It's all part of the Department of Radiology and the UVA Breast Care Center's dedication to providing compassionate and comprehensive care to communities and patients who wouldn't otherwise be able to access it.
If you're interested in learning more about the UVA mobile mammography program or would like to bring the mobile mammography coach to your community, please contact Amy Pennington, the Mobile Mammography Coordinator, at 434.297.5202.