Delivered November 15, 2023
Speaker:
J. Kim Pemberthy, MA, PhD, ABBP
Moderator:
Ziv Haskal, MD, FSIR
---
About the Speakers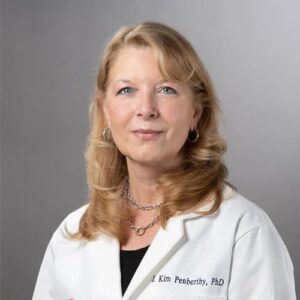 J. Kim Pemberthy, MA, PhD, ABBP
Chester F. Carlson Professor of Research in Psychiatric Medicine
University of Virginia
Jennifer "Kim" Penberthy, PhD, is a clinical psychologist who holds the Chester F. Carlson Professorship Chair in Psychiatry & Neurobehavioral Sciences at the UVA School of Medicine. A clinician, researcher, teacher, and innovator, she uses contemplative practices to help people who have deep mental suffering, addiction, and chronic medical conditions, such as cancer and lupus. Dr. Penberthy grew up in Lewisburg, West Virginia, the oldest daughter of a cardiothoracic surgeon and a nurse. She obtained her undergraduate degree in psychology and a master's degree in experimental psychology from Wake Forest University in Winston-Salem, North Carolina. She received her PhD in clinical psychology at Virginia Commonwealth University in Richmond, Virginia. She completed her internship in Psychiatry & Behavioral Medicine at Eastern Virginia School of Medicine and her Fellowship in Psychiatry & Neurobehavioral Sciences at the University of Virginia School of Medicine, where she has been on faculty since 2001. Dr. Penberthy treats patients in psychiatry and at the UVA Cancer Center. She strives to provide the most effective whole-person approach to treatment. "I am very invested in knowing and treating the whole person and I feel strongly that this is why my clinical outcomes are so good. I do not treat diseases — I treat people." Dr. Penberthy applies cognitive behavioral therapy, mindfulness, and acceptance-based psychotherapies in patients with mental health disorders. She sees patients in the Outpatient Psychiatry clinics at UVA Health.
---
About the Moderator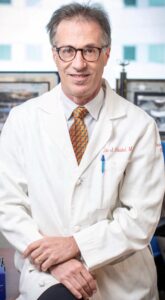 Dr. Ziv Haskal, MD, FSIR
Professor of Radiology and Medical Imaging
University of Virginia
Dr. Haskal is a tenured professor of radiology and medical imaging in the Division of Interventional Radiology at the University of Virginia School of Medicine. He received his M.D. at Boston University School of Medicine and completed residency and fellowship at the University of California, San Francisco. As a sought after teacher and educator, Dr. Haskal has given more than 500 invited lectures worldwide and been awarded numerous honorary fellowships, national, international and societal awards for leadership, service and research excellence. He has designed, participated or led more than 40 research trials. Dr. Haskal has also published more than 400 scientific manuscripts, chapters, review, abstracts and editorials in journals ranging from Human Gene Therapy and the New England Journal of Medicine, to Circulation, JVIR, Radiology, Hepatology and more. Dr. Haskal was the editor in chief of the Journal of Vascular and Interventional Radiology (JVIR) from 2011-2020, doubling its manuscript submissions, raising its impact factor and introducing numerous print, electronic and new media offerings.