RAD-ICAL Award Winners
The RAD-ICAL Award recognizes UVA Radiology and Medical Imaging team members for the compassion and clinical expertise they provide every day in their patient care. It honors those people who go above and beyond their standard job requirements to ensure the comfort and happiness of their patients, or who perform extraordinary acts of kindness, compassion, or care that have a significant and positive impact on a patient or family.
Coworkers, patients, or patient families can nominate a Radiology team member for the RAD-ICAL Award.  To nominate a Radiology team member for the award, or to learn more about the award criteria, please click here.
---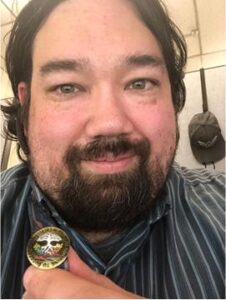 July 2020 – Bobby Skeens
In July 2020, the RAD-ICAL Award was given to Bobby Skeens, an Intermediate Engineer in the Radiology Department. David Roberts, who nominated Bobby for the award, wrote:
Robert (Bobby) Skeens has been with UVA since June 2001. During this time he has learned and advanced his skills related to Information Technology to enhance the tools and systems that Radiology Department relies on every day. Without his knowledge and dedication we would be at a huge disadvantage when it comes to technology advanced IT systems.

Recently, Interventional Radiology (IR) relocated to the new South Tower, along with their reading room. Bobby took the lead and volunteered to meet with IR leadership to create a plan for a seamless transition. Bobby sacrificed his weekend and led the four-member desktop team. Two members of this team were recently hired and not familiar with radiology workflow or workstation configurations, so this added to the complexity of this move. However, with Bobby's guidance and direction the team overcame this deficiency, and all 16 workstations and three wall mounted conference systems were relocated and ready for use come Monday morning.
---

June 2020 – Yaro Shvorak
In June 2020, the RAD-ICAL Award was given to Yaro Shvorak, a Radiology Clinical Associate in CT. Carly Lundgren, who nominated Yaro for the award, wrote:
Yaro is a very smart, knowledgeable, and hard working asset to the CT team. He goes above and beyond for both the employees and the patients. He figures out a way to get it done with the safety of the patients in mind. He has held vomit bags for patients who are sick when I couldn't get in the room quick enough. He helps stock your room before you even get to it, all with a smile. His positive attitude is contagious and I'm so happy to have him along side me in the CT radiology department. Thank you, Yaro!
---
May 2020 – Matthew Calvarese
In May 2020, the RAD-ICAL Award was given to Matthew Calvarese, a Nuclear Medicine Technologist. A family member of a patient, who nominated Matt for the award, wrote:
My husband and I brought our (young) son into the radiology department for a Mag 3 renal scan. As you can imagine, our son was apprehensive about having the procedure done. Quite honestly, as a parent, I felt similar anxiety but tried not to let those feelings project onto my son.

Matt Calvarese met us in the waiting room and immediately set our nerves at ease. He was upbeat, friendly, and engaging to my young son as well as to my husband and me. He kindly explained what was going to happen and knowledgeably answered our questions. Most importantly, he showed true care and understanding towards my son as he engaged him by asking questions to find out his interests and capitalized on what he knew would distract him. "Mr. Matt," as my son referred to him, became a celebrity as they talked about their mutual love of reptiles, critters, and skateboarding. When my son was visibly upset about having the IV removed, Matt showed him how there was no needle involved and assured him it would be a painless procedure. The entire time, Matt was professional as he answered my questions and reassured me as well.

Matt singlehandedly made our experience the best possible one we could have imagined. He turned a potentially unsettling experience into a positive one for a young child and his parents and we are so grateful for his kindness. "Mr. Matt" went above and beyond for our family and is the perfect example of what you would want in a UVA employee. He is a true asset to the radiology department, UVA hospital, and the medical profession.
---

April 2020 – Cindy Lourenzo
In April 2020, the RAD-ICAL Award was given to Cindy Lourenzo, an MRI nurse in the Education Research Center (ERC) imaging center. Holly McCoy, who nominated Cindy for the award, wrote:
Cindy is a wonderful person to work with and never fails to go above and beyond for her team members, all patients in our facility, and the patient's family members. If anyone deserves this nomination, it's Cindy. Cindy always takes the time to make sure her patients are comfortable and happy while in our facility. She is kind while giving them their IVs and is friendly with her patients. She always explains everything and answers any questions the patient has as best as she can to ensure they understand and feel like they are in good hands. She makes sure the patient and their family is comfortable while they are getting their contrast and offers a blanket to everyone. She makes sure to check in with the patients during their wait for their exam to begin and if the patient looks like they are cold or uncomfortable makes sure to do what she can to accommodate them.

Cindy also makes wonderful efforts to help her coworkers. She is a precious member of this team and her presence is something we all love and cherish. She is part of why this department is such a great place to work and we look forward to seeing her each and every day for so many different reasons.
---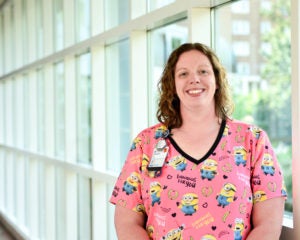 September 2019 – Theresa Harris
On September 5, 2019, the first-ever RAD-ICAL Award was given to Theresa Harris, Pediatric Radiologic Technologist. Congratulations, Theresa!
Dr. Reza Daugherty, who nominated Theresa for the award, wrote this about her:
I have no doubt what so ever that Theresa Harris exemplifies everything this award aims to recognize. She is the foundation upon which all outpatient pediatric fluoroscopy lies here at UVA. She is equally beloved by her patients and staff alike. Always a team player, she goes above and beyond the call of duty on an almost daily basis. Whether it means spending extra time calming the fears of an anxious parent or soothing the cries of a frightened child she exudes a sense of calm and compassion.

She is recognized as an expert by her peers and even the Pediatric Urology nurses will come to her when there is a child they cannot place a urinary catheter in. Never once complaining or hesitating to heed the call for help, she is invariably dependable, frequently coming in early or staying late when needed. She makes it clear daily that self-interest is never her primary goal but rather compassion and team work come first. Without Theresa, the smallest and most vulnerable patients at UVA would be wanting for the best possible care and patient experience.