RAD-ICAL Award Winners
The RAD-ICAL Award recognizes UVA Radiology and Medical Imaging team members for the compassion and clinical expertise they provide every day in their patient care. It honors those people who go above and beyond their standard job requirements to ensure the comfort and happiness of their patients, or who perform extraordinary acts of kindness, compassion, or care that have a significant and positive impact on a patient or family.
Coworkers, patients, or patient families can nominate a Radiology team member for the RAD-ICAL Award. The award is given quarterly (four times a year). To nominate a Radiology team member for the award, or to learn more about the award criteria, please click here.
Past Winners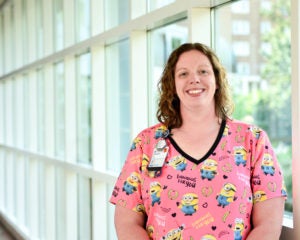 September 2019 – Theresa Harris
On September 5, 2019, the first-ever RAD-ICAL Award was given to Theresa Harris, Pediatric Radiologic Technologist. Congratulations, Theresa!
Dr. Reza Daugherty, who nominated Theresa for the award, wrote this about her:
I have no doubt what so ever that Theresa Harris exemplifies everything this award aims to recognize. She is the foundation upon which all outpatient pediatric fluoroscopy lies here at UVA. She is equally beloved by her patients and staff alike. Always a team player, she goes above and beyond the call of duty on an almost daily basis. Whether it means spending extra time calming the fears of an anxious parent or soothing the cries of a frightened child she exudes a sense of calm and compassion.

She is recognized as an expert by her peers and even the Pediatric Urology nurses will come to her when there is a child they cannot place a urinary catheter in. Never once complaining or hesitating to heed the call for help, she is invariably dependable, frequently coming in early or staying late when needed. She makes it clear daily that self-interest is never her primary goal but rather compassion and team work come first. Without Theresa, the smallest and most vulnerable patients at UVA would be wanting for the best possible care and patient experience.