Ryan P. Smith, MD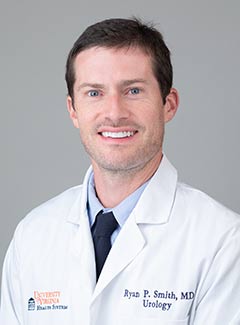 Ryan P. Smith, MD
Faculty Rank: Associate Professor
M.D. Degree: University of Virginia School of Medicine, 2007
Residency: University of Virginia
Fellowship: Baylor College of Medicine (Male Reproductive Medicine and Surgery)
ABMS Certification: Urology
Clinical Practice: Male Infertility, Vasectomy and Vasectomy Reversal, Erectile Dysfunction, Benign Prostate Conditions, Men's Health, Male Sexual Dysfunction, Hypogonadism, Peyronie's Disease
Research Interests: Male Infertility Testosterone Male Sexual Dysfunction
Meet the faculty ~ http://youtu.be/Yura0J7S61M
CV
---
Dr. Ryan Smith holds a clinical faculty appointment in Urology at the University of Virginia. He currently practices at the UVA Urology Clinic in Charlottesville and at the UVA Specialty Care Clinic in Culpeper.
He attended medical school at the University of Virginia School of Medicine and also completed his urology residency at the University of Virginia. He subsequently completed a fellowship in Male Reproductive Medicine and Surgery at the Baylor College of Medicine.
Dr. Smith joined the UVA Urology staff in 2013. As was the case for many years during his student and residency years at UVA, Dr. Smith continues to be involved locally with many volunteer and community service activities. Dr. Smith has been an invited speaker on a variety of topics including male infertility, fertility preservation and testosterone therapy. He is fellowship trained in microsurgery and is a men's health advocate.
His personal interests include trail running, fly fishing, soccer and spending time with his family.
https://www.youtube.com/watch?v=XOJkfadkb_w
https://www.youtube.com/watch?v=L7HU7Qr6IGw