CONGRATULATIONS to Dr. Jessica Sheeran for being one of this year's recipients of the Dean's Award for Excellence in Teaching.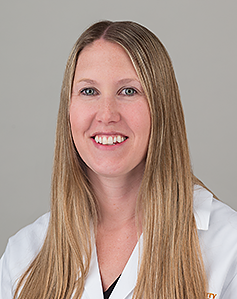 Dr. Sheeran was nominated by Dr. Vaia Abatzis, Dr. Khadija Razzaq, Andrew Voegel, and Dr. Brian Brenner.
"A teacher not only teaches the textbook items and pearls, but also takes time to help you achieve your goals, to support you, and to provide guidance."
"Dr. Sheeran gave me the chance to perform the entire intubation sequence beginning with BVM and ending with my (failed) attempt at intubating a rather difficult patient. She gave pointers along the way and helped improve my technique. She didn't make me nervous at all and helped me build confidence in my newly acquired skill set. I would love to work with her in the future, because she is a joy to learn from. Dr. Sheeran was a great teacher. She seemed really interested in me having a great experience on OB anesthesia which I really appreciated and made it my favorite anesthesia day. "
"Dr. Sheeran is also a very patient instructor in and out of the operating room who knows how to communicate to her learners. She actively encourages open communication over intervention so she can help correct procedural technique. I found this beyond useful in truly understanding the fundamentals and how to troubleshoot difficulties with ventilation, intubation, and intravenous access."
Just a few of the reasons Dr. Sheeran was chosen as one of this year's outstanding faculty teaching UVA Medical Students! We are so VERY proud of this honor!