About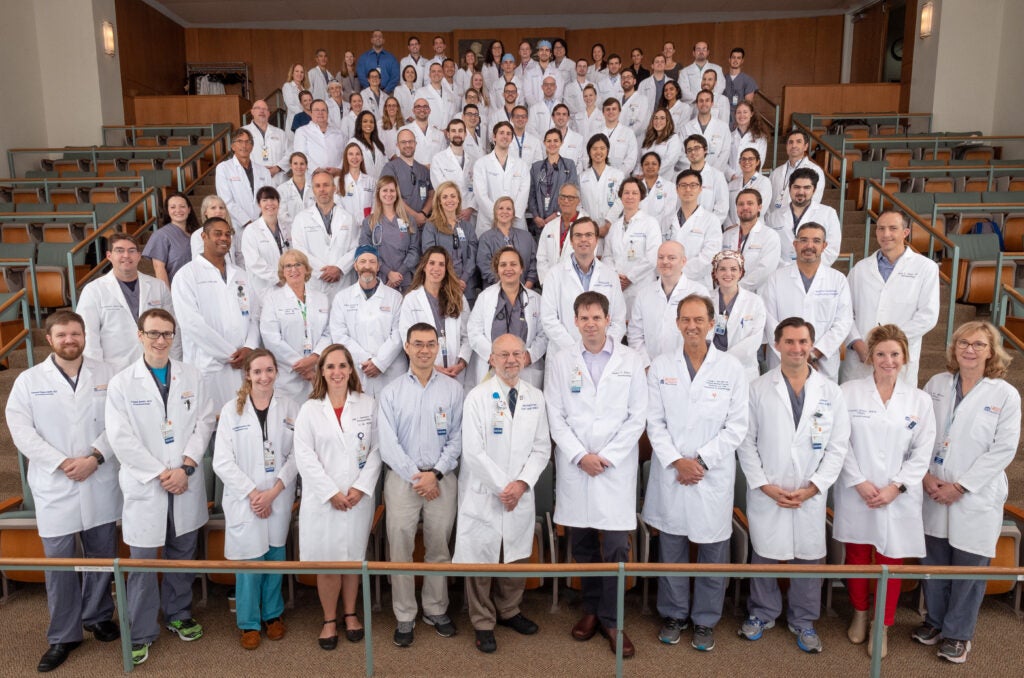 The Department of Anesthesiology at the University of Virginia is committed to quality clinical care, outstanding educational offerings, and cutting edge research.
Patient Care
Our faculty members staff approximately 62 anesthetic sites, 3 ICUs units and 2 Pain Clinics on any given day, performing or directing ~45,000 anesthetic procedures in the course of a year.  The Pain Management Center and the Acute Pain Service recently were designated as an American Pain Society Center of Excellence.
Education
The Department of Anesthesiology Residency Program trains ~60 anesthesiology interns and residents. Post graduate training is available to six pain medicine fellows, two ACGME regional and acute pain medicine fellows, and two fellows in critical care anesthesia.  The department also offers numerous opportunities for advanced training (non-accredited "fellowships") in medical simulation, education research, quality and safety, obstetrics, regional, and neuro anesthesia. Medical students complete a required perioperative clerkship in their third year, including time in the American Society of Anesthesiology endorsed UVA Medical Simulation Center. Elective and research opportunities are available during the fourth year.
Research
The department's research efforts involve dozens of faculty, residents, and staff in basic science and clinical research efforts.  Our clinical investigators and Ph.D. researchers maintain active basic science laboratories conducting anesthesiology-related investigations with support from post-docs, fellows, residents, and graduate students.  Many of our faculty members are involved in clinical research, supported by a staff of clinical research coordinators and post doctorate research fellows. The Technology in Anesthesia and Critical Care Group focuses attention on biomedical devices and includes faculty from the School of Engineering and Applied Science as well as the School of Medicine.
Statement of Inclusion
The University of Virginia Department of Anesthesiology strives to promote a culture of equality, diversity, and inclusion. We embrace and appreciate all individual qualities and perspectives of our resident/fellow trainees as well as our nurse anesthetists, faculty, staff, and patients.  Each day we actively work to transform our culture to promote diversity and inclusion with excellence in clinical care, education, and research.  We believe that diversity not only makes us stronger, facilitates collaboration, and aids in positive changes to the Department, but it is a core commitment and strength of the University.  We are committed to ensuring everyone is welcome, safe, and valued at UVA Health System.
Historical Overview
The Department of Anesthesiology was established as a clinical department in 1955. Douglas W. Eastwood was recruited as the first Chair of the department, a position he held until 1971. Dr. Eastwood established the residency program and recruited several key faculty members, among them Harold Carron, who established the Pain Management Center as one of the first multidisciplinary programs for treating pain.
Robert M. Epstein was recruited from Columbia University in 1972 and served as Chair until 1996. During his tenure as chair, the department saw tremendous growth, in numbers and in reputation. Several of the faculty members recruited by Dr. Epstein went on to serve as chairs of other departments, including David E. Longnecker, Edward D. Miller, Carol L. Lake, Robert M. Bedford, and Roger A. Johns. Noteworthy graduates of the residency program from this time include Robert Pearce, Timothy Brennan, Roger Litwiller, and Roger Johns, all of whom have achieved leadership positions in our specialty.
Raymond C. Roy was Chair of the department for two years before returning to Wake Forest to assume the chairmanship of that department, where he had been a faculty member for several years. Roger A. Johns was appointed interim Chair in 1998, leaving in 1999 to become Chair at Johns Hopkins.
Carl Lynch III, who had 18 years of experience in the department as a clinician-researcher, was appointed Chair in 1999. He recruited several clinician investigators including Zhiyi Zuo, Vesna Jevtovic-Todorovic, and Slobodan Todorovic, who were able to obtain significant NIH grant support for research on anesthetic-mediated protection and mechanisms of action. Dr. Jevtovic-Todorovic left to become Chair at the University of Colorado in 2015.
George F. Rich was appointed Chair in 2005 after 16 years of experience in the department, which included appointments as the program director and Vice-Chair. He  stepped down as Chair in 2020.  Under his leadership, the past 15 years saw expansion of clinical services to roughly 50 anesthetizing locations and faculty growth from 35 to over 60. The department has 4 NIH funded labs. There has been rapid expansion of both pain management and intensive care medicine.  The education program is thriving with 16 residents per year and fellowships in pain, critical care and regional anesthesia. The department has an impressive reputation with many outstanding faculty members with a significant national recognition.
Peggy P. McNaull was recruited from the University of North Carolina and began serving as Chair in December, 2020. She has a national reputation in pediatric anesthesiology and brings administrative experience as a Chief Medical Officer of Quality and Safety and Vice Chair of Patient Safety and Quality Improvement.