Giving
Making a Gift
If you would like to make a gift to further research, education, or patient care in the Department of Anesthesiology, please contact the Health System Office of Development staff at 434-924-8432, or toll free at 800-297-0102.
Your gift can be unrestricted or designated for a specific purpose.  You may wish to add to the endowments for one of our already established professorships, lectureships, or our new Celebration of Research.
The Frederic A. Berry Professorship in Anesthesiology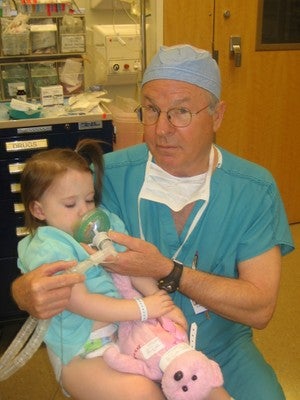 Our most recent endowed professorship honors Frederic (Fritz) Berry, for his many years of service to the department.
Dr. Berry completed his undergraduate degree at UVA and entered the School of Medicine in 1955.  Trained both as a pediatrician and an anesthesiologist, Dr. Berry joined the faculty of the Department of Anesthesiology upon completing his residency in 1966.  Over the course of a 43 year career, he trained over 500 residents at UVA as well as acting as a visiting professor at universities around the world.
Dr. Berry is the author of two renowned texts in pediatric anesthesiology, and dozens of book chapters and journal articles further extending his influence.  Here in Charlottesville, he is well known for his gentle touch and ability to comfort his young patients and their grateful parents.
For his many contributions to pediatric anesthesia, global and local, we are proud to establish the Frederic A. Berry Professorship in Anesthesiology.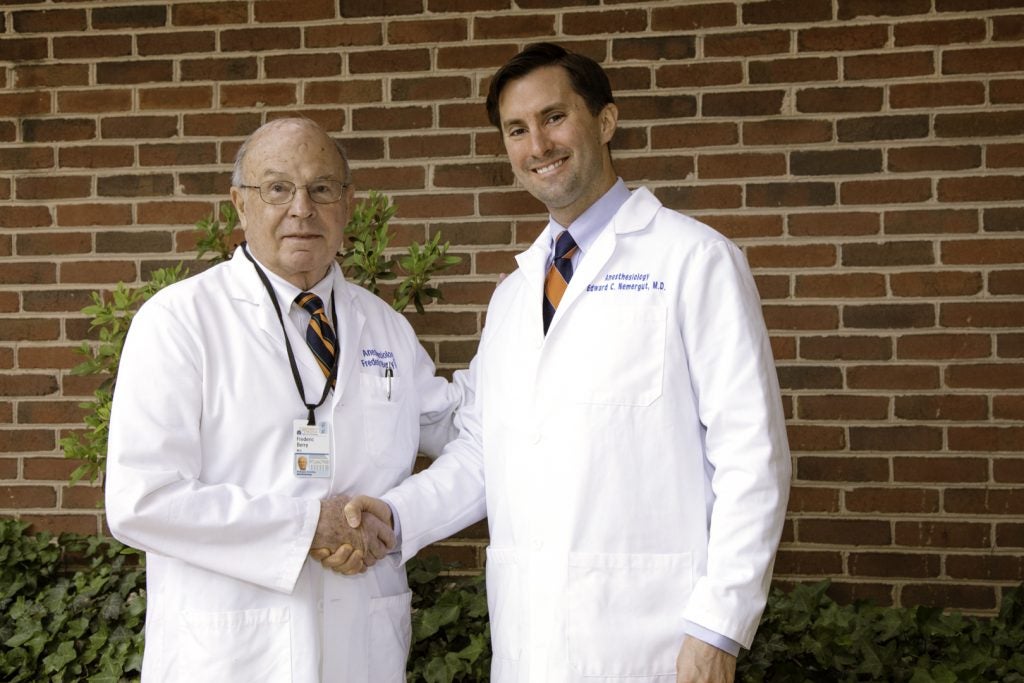 Edward C. Nemergut, M.D. was named the
Frederic A. Berry Professor of Anesthesiology
on  December 25, 2015
Harold Carron Professorship in Anesthesiology
The Carron Professorship honors Harold Carron, who established the Pain Management Center, one of the first multidisciplinary centers for treating pain. He was also a founding member of ASRA, the American Society for Regional Anesthesia. Dr. Carron was a faculty member in our department from 1970 to 1984 and served as acting chair from 1980-1982.
Past Chair holders:  Vesna Jevtovic-Todorovic, MD, PhD, MBA was the Harold Carron Professor of Anesthesiology from 2006-2015. Dr. Jevtovic-Todorovic was on our faculty from 2001-2015 as an NIH-funded researcher and clinician in the department.
Cosmo DiFazio Professorship in Anesthesiology
The DiFazio chair honors Cosmo A. DiFazio, MD, PhD, who joined the faculty in 1984, immediately after graduating from our residency program. Upon his retirement, the department established a professorship to honor his many contributions. John C. Rowlingson, MD, has occupied the DiFazio professorship since 2005.
Robert M. Epstein Professorship in Anesthesiology
Robert M. Epstein, MD, was the chair of the department from 1972 to 1996, a time of great growth and change. Several of the faculty members recruited by Dr. Epstein went on to chair other departments and institutions, including David Longnecker, Edward Miller, Carol Lake, Robert Bedford, and Roger Johns. The Epstein chair was established in his honor. Carl Lynch III, MD, PhD, occupied the chair from 1999 to 2008.  Zhiyi Zuo, MD, PhD, currently holds the chair.
Vesna and Slobo Todorovic Celebration of Research
With a generous grant from Vesna Jevtovic-Todorovic, MD, PhD, MBA, and Slobodan M. Todorovic, MD, the department established an annual celebration of research. The event showcases research completed at the University of Virginia Department of Anesthesiology and features a keynote lecture. In 2014, Zeljko J. Bosnjak, PhD, of the Medical College of Wisconsin, 2008  recipient of the ASA Excellence in Research Award, was the speaker. James Eisenach, MD, PhD, President and CEO of FAER, past Editor-in-Chief of Anesthesiology and professor at Wake Forest, was the 2015 keynote speaker.  Charlie G. Durbin, MD, PhD, Professor of Anestheisology at the University of Virginia, President's Citation for Outstanding Contributions to the Society of Critical Care Medicine, 1997, 2010, and AARC Honorary Life Membership, 1997 gave the 2016 keynote address. Hugh C. Hemmings Jr., MD, PhD., FRCA Senior Associate Dean for Research, The Joseph F. Artusio, Jr. Professor and Chair, Department of Anesthesiology, Professor of Pharmacology, Weill Cornell, was the speaker
John C. Rowlingson Pain Lecture Series
A gift from one of Dr. Rowlingson's patients allowed the department to establish an annual lecture in the area of pain management. The inaugural lecture was held in 2013, and delivered by James Rathmell, MD, of Massachusetts General Hospital. Donald C. Manning, MD, delivered the last lecture.  Plans are underway for the next lecture in January 2019.