Patient Information
Patient Care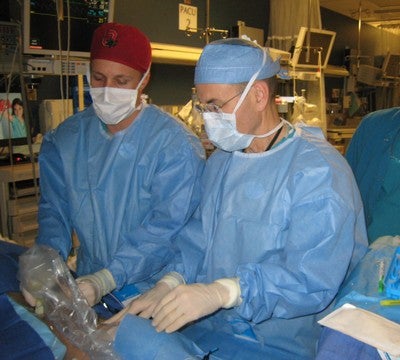 The Department of Anesthesiology is committed to providing excellent patient care.  Staffing as many as 40 separate locations at University Hospital and the University of Virginia Outpatient Surgery Center, anesthesia professionals perform 31,000 procedures in the course of a year.
For many patients, the first contact with the Department is at the Pre-Anesthesia Evaluation and Testing Center. Patients are referred here for an assessment of factors influencing anesthetic treatment. This may include a patient history, lab tests, and x-rays in advance of the date of surgery.
On the day of surgery, patients go first to the Surgical Admissions Suite, where they will meet their anesthesiologist and have an opportunity to ask questions.  After surgery, patients are cared for in the Post Anesthesia Care Unit until they are discharged for home or transferred to a hospital inpatient unit.
For more information about your hospital stay, see the patient and visitor information on the University of Virginia Health System website.
The Pain Management Center  sees patients with chronic and acute pain issues.  A referral from your primary care physician is required.  Our multidisciplinary team offers a comprehensive approach to diagnosis and treatment.
Clinical Research in Anesthesiology
Many of our physicians are active in clinical research.  If you fit the profile for one of our research studies, you may be invited to participate.  A clinical research coordinator will explain the research project fully, and you will sign a consent form before any research procedures take place.
Participation is always voluntary.  Access to health care is never based on your decision on whether to participate in research.
The Institutional Review Board for Health Sciences Research oversees all research at the UVA Health System.