We're delighted to welcome Adishesh Narahari aka Adi to the Bayliss Lab! Adi is a student in the Medical Scientist Training Program (MSTP) who is beginning his first year of graduate school this fall. Adi's research involves determining the signaling mechanisms of the Pannexin 1 channel. He is currently using methods in patch-clamping, molecular biology, and immunohistochemistry to study various activation and regulatory mechanisms of the Pannexin 1 channel. His co-mentors are Dr. Victor Laubach and Dr. Irving Kron (Surgery); in their lab he's looking at the involvement of the Pannexin channel in lung ischemia-reperfusion injury using an in-vitro cell system and an in-vivo mouse lung injury model.
Also, he can sometimes be found Looking Very Serious in the lab: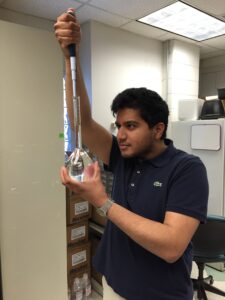 If you haven't met him, yet, stop by and welcome him to J-5!