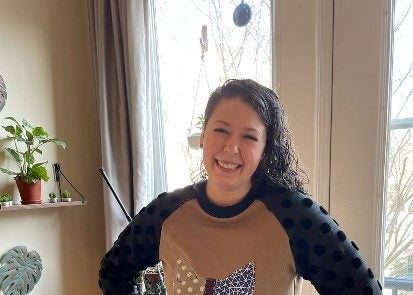 The Pharmacology department is sending out a huge congrats to Elizabeth (Liz) Gonye (Pharmacology Graduate Student in Douglas Bayliss's Lab) for being a recent recipient of the Ruth L. Kirchstein Predoctoral Fellowship from the National Institute of Neurological Disorders and Stroke.
The Kirschstein-NRSA program enables promising predoctoral students (like Liz) with potential to develop into a productive, independent research scientist, to obtain mentored research training while conducting dissertation research.
This award will provide funding for Liz to work on characterizing the role of metabotropic GPCR signaling in the retrotrapezoid nucleus (RTN). Liz and her team, are trying to understand the mechanism by which the proton-sensing GPCR GPR4 is able to modify activity of RTN neurons. They will also look at the role of this GPCR in controlling or modifying neuropeptide signaling from the RTN to other brainstem nuclei. This work will enable them to better understand CO2 sensing in the brainstem as well as better characterize mechanisms of GPCR-controlled neuropeptide release in general.
Way to go, Liz! Please give her your sincere kudos and well-wishing as she continues her outstanding work as student in research!