The
Virginia Department of Health and the University of Virginia are collaborating on a survey that explores the health, wellness, and experience of transgender and gender non-conforming (TGNC) Virginians.
Our goal is to use the results to enhance and expand education, prevention, and treatment services for TGNC people living in Virginia.
This study uses a peer-referral recruitment method. You may receive an invitation to participate and will receive coupons to invite others to participate. This method allows us reach individuals who may otherwise not be reached in the study. See below for a picture of a survey invite:
See below for a picture of a survey invite.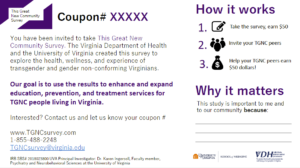 Did you receive a survey invite? Click below to securely provide your contact information and invite number. A study team member will contact you to schedule a time to complete the study.
Click Here to Provide Contact Information
If you have any questions about the study please contact below:
 1-855-488-2248
IRB SBS # 2018023800
Principal Investigator:  Dr. Karen Ingersoll, Faculty member, Psychiatry and Neurobehavioral Sciences at the University of Virginia