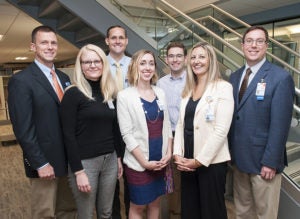 Since 2017, the Translational Health Research Institute of Virginia (THRIV) Scholars Program, supported by the School of Medicine and now the recently awarded CTSA, has provided innovative training for highly motivated, talented junior faculty representing the next generation of clinical and translational researchers across Grounds at UVA.
Upon selection, Scholars are prepared to excel in a clinical translational research environment in which digital data drives healthcare hypotheses, interventions, and health quality evaluation.
Please join us in welcoming the third cohort of Scholars including the Center for Behavioral Health & Technologies very own Kelly Shaffer, Ph.D.
Click here to read the full article and see more about the awardees, projects, and mentors in the 2019-2021 cohort.