Living in Charlottesville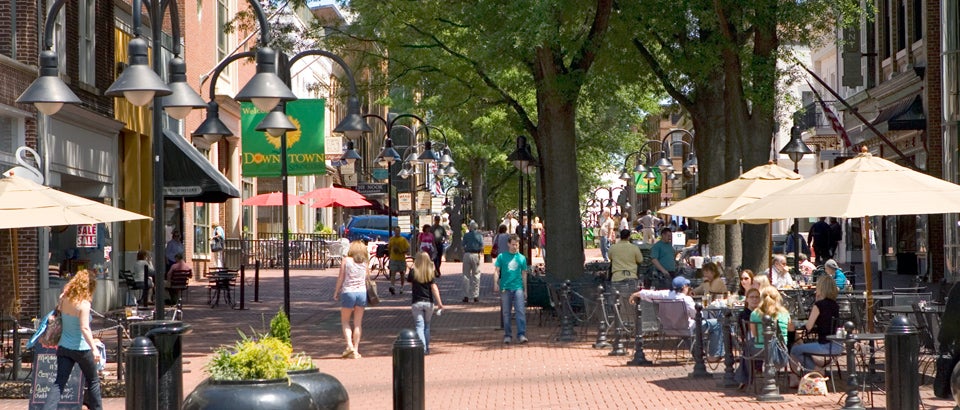 A top ranked City & University
Charlottesville and the surrounding Albemarle County have a combined population of approximately 152,000 and provide an environment that is cosmopolitan and rich in cultural opportunities such as concerts, art galleries, and restaurants.  The region is filled with historical and recreational sites including Thomas Jefferson's home, Monticello, and the Skyline Drive that passes through Shenandoah National Park. The University is located in an exceptionally beautiful setting.  The nearby Blue Ridge Mountains provide ample opportunity for hiking, mountain biking, fishing, and camping. Cultural opportunities are enhanced by our close proximity to Washington D.C. and Richmond, Virginia. Virginia Beach and the Chesapeake Bay are also within easy driving distance.
The University Setting
The University of Virginia was founded in 1819 by Thomas Jefferson, whose dedication to the pursuit of knowledge began a tradition that continues today through national and international recognition of many of the University's academic programs. Mr. Jefferson's original concept of the University of Virginia was as an academic village in which students and faculty lived and worked together, thus fostering a sense of community. That sense of community is one of the most prominent characteristics of the University today, and results in strong professional and social interactions between the Schools of Medicine, Engineering and Arts & Sciences, as well as within the School of Medicine.
The University is located in Charlottesville, Virginia on a beautiful campus nestled in the foothills of the Blue Ridge Mountains. The University is centered around the buildings and lawn originally designed by Jefferson. It is relatively small for a state university, enrolling fewer than 20,000 students. However, it is historically ranked among the very best public institutions in this Country.* The School of Medicine is an integral part of the main campus of the University of Virginia, allowing students and faculty easy access to the entire spectrum of academic, athletic, and social resources available to the University community.
*In the 11 years since U.S. News began ranking public universities as a separate category, UVa has ranked either No. 1 or No. 2.