7 February 2018—Claude Moore Medical Education Building, 3rd floor auditorium
John F. Anderson Memorial Lecture
DIVERSITY FOR DIVERSITY'S SAKE?
OR, THE ANSWER TO IMPLICIT BIAS?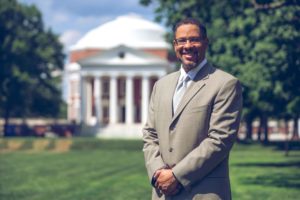 Michael D. Williams MD, Departments of Surgery and Public Health Sciences;
School of Medicine, and the Frank Batten School of Leadership and Public Policy, UVA
A panel of UVA physicians:
Puja Shah Berry MD, Department of Surgery
Gerald R. Donowitz MD, Department of Medicine
Charles Friel MD, Department of Surgery
Susan Kirk MD, Department of Medicine and Office of
Graduate Medical Education
Allison Martin MD, Department of Surgery
In recent years in the US, increasing workforce diversity has become a priority in health care and other industries. Many companies, including Fortune 500s, now recognize that having a diverse workforce improves both business and the bottom line—indeed, diversity is key to organizational excellence. In this Medical Center Hour, a panel of physicians explores whether UVA Health System's growing diversity can add value in a very different way: can our organization's greater diversity be a lever to mitigate bias in these increasingly fraught times?
Event Categories: Medical Center Hour, Upcoming Events