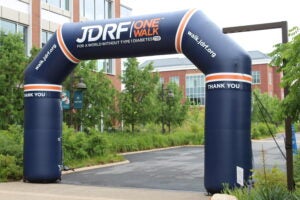 June 24, 2023 – North Fork UVA Discovery Park
The University of Virginia Center for Diabetes Technology partnered with local volunteers to plan the 2023 Juvenile Diabetes Research Foundation (JDRF) Community One Walk in Charlottesville. Many people in the Charlottesville community and beyond have been touched by Type 1 Diabetes (T1D) and we are working together to raise support to find a cure. The efforts made will fund scientific breakthroughs to make living with T1D easier to manage. For the first time in our history, there is a clear path to cures for T1D and our support will drive as many of these therapies to the market as quickly as possible.
Positive Impacts
The Charlottesville JDRF Community One Walk raised over $25,500 USD dollars, surpassing our goal of $20,000! Over 150 people attended and participated in the walk. Children enjoyed face painting and rock painting. Local bagel shop, Bodo's Bagels, donated bagels to the event and local food tuck, Buzzing Bee Coffee Co., came and provided delicious tea and coffee drinks. Lastly, a live band performed featuring Caleb Carpenter.
News Coverage