Frequently Asked Questions
Thank you for your interest in learning more about the University of Virginia's Center for Diabetes Technology!
General Questions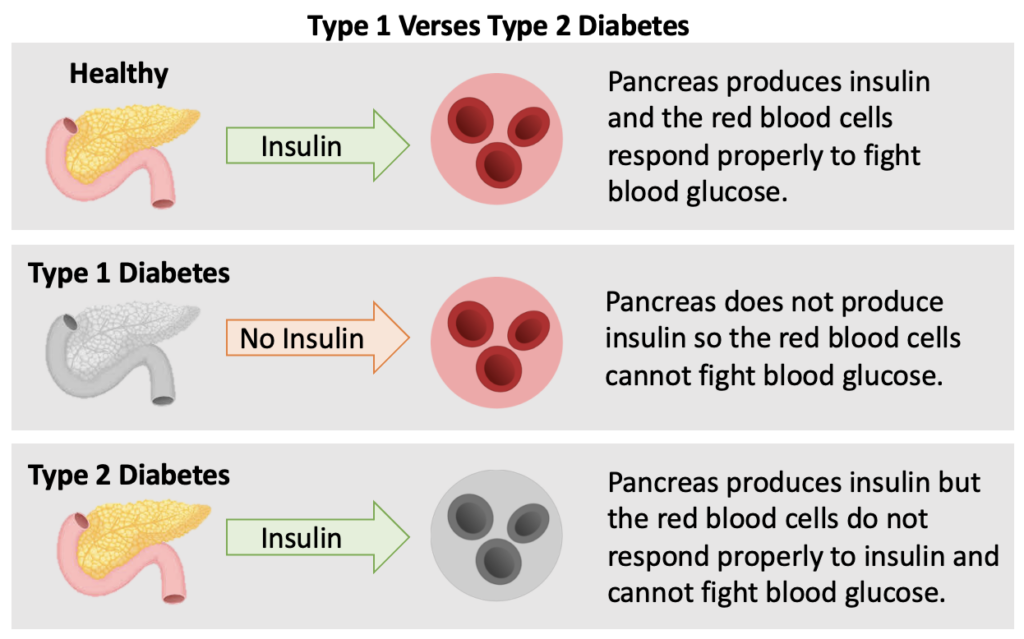 In a healthy pancreas, insulin is produced when a high level of blood glucose is detected. The red blood cells respond properly and accepts the insulin to fight the high level of blood glucose. Both types of diabetes can be diagnosed at any age and age alone does not define what type of diabetes you have.
In a person with Type 1 Diabetes, the pancreas either does not produce insulin at all or not enough to combat the high blood glucose. The reason the pancreas does not produce insulin is because Type 1 Diabetes is an autoimmune disease. The immune system attacks the cells in the pancreas that make insulin because it thinks they are foreign or bad like a virus. To date, there is no cure for T1D.
Reference: ADA The Basics of Type 1 Diabetes
In a person with Type 2 Diabetes, the pancreas produces some insulin, however the red blood cells do not respond properly and resist the action of insulin. In other words, the body becomes resistant to the insulin it is producing and blood sugar levels rise.
Reference: ADA How Type 2 Diabetes Progresses
A CGM works through a tiny sensor placed on your skin, usually on your belly or arm. With the aid of a small needle, the sensor is inserted through the skin into the fatty tissue and is taped in place. The sensor measures your interstitial glucose level, which is the glucose found in the fluid between the cells of your skin. The sensor tests glucose every five minutes. A transmitter wirelessly sends the information to a monitor or phone app.
Continuous glucose monitoring automatically tracks blood glucose levels, also called blood sugar, throughout the day and night. You can see your glucose level anytime at a glance. You can also review how your glucose changes over a few hours or days to see trends. Seeing glucose levels in real time can help you make more informed decisions throughout the day about how to balance your food, physical activity, and medicines.
Reference: NIDDK Continuous Glucose Monitoring
Most people who use CGMs have Type 1 Diabetes. However recently more popularity has grown around people with Type 2 showing benefits of using a CGM.
CGMs are approved by the FDA for use by adults and children with a doctor's prescription. Some models may be used by children as young as 2 years old.
Your doctor may recommend use of a CGM if your are on intensive insulin therapy or you frequently experience events of having too high or too low of blood sugar.
Reference: NIDDK Continuous Glucose Monitoring
Hypoglycemia
Is also called low blood sugar and occurs when the level of glucose in the blood drops below 70 mg/dL. Symptoms include being hungry, tired, lightheaded, headache, shaky, confused, and can't speak clearly.
Reference: NIDDK Low Blood Glucose
Hyperglycemia
Is also call high blood sugar and occurs when the level of glucose in the blood rises above 180 mg/dL. Symptoms include frequent urination, increased thirst, blurred vision, feeling weak, and tiredness.
Reference: Mayo Clinic Hyperglycemia in diabetes
Both Hypo- and Hyperglycemia are considered serious health events and need to be addressed and mitigated within a timely manner. Both types of events can lead to severe health complications and in some cases hospitalization if left untreated.
The Artificial Pancreas Device System is a system of devices that closely mimics the glucose regulating function of a healthy pancreas.
Most Artificial Pancreas Device Systems consists of three types of devices already familiar to many people with diabetes: a continuous glucose monitoring system (CGM) and an insulin infusion pump. A blood glucose device (such as a glucose meter) is used to calibrate the CGM.
A computer-controlled algorithm connects the CGM and insulin infusion pump to allow continuous communication between the two devices. Sometimes an artificial pancreas device system is referred to as a "closed-loop" system, an "automated insulin delivery" system, or an "autonomous system for glycemic control."
An Artificial Pancreas Device System will not only monitors glucose levels in the body but also automatically adjusts the delivery of insulin to reduce high blood glucose levels (hyperglycemia) and minimize the incidence of low blood glucose (hypoglycemia) with little or no input from the patient.
Reference: FDA What is a pancreas? What is an artificial pancreas device system?
A small, computerized device that delivers insulin to the body via a flexible plastic tube called a catheter. With the aid of a small needle, the catheter is inserted through the skin into the fatty tissue and is taped in place. The tube/needle combination is called an infusion set. They can either deliver small continuous doses of insulin or a larger singular dose during a meal time. This delivery mimics the body's normal release of insulin. A pump is just a tool to help you reach your blood glucose goals, it is not a cure.
Reference: ADA Insulin Pumps: Relief and Choice
The CDT is highly committed to providing resources in English and Spanish to help include all persons interested in participating in a diabetes research study.
If you are a Spanish speaker or prefer to communicate in Spanish, please reach out to us and we can help provide you with the necessary materials.
Research Study Questions
In order to be considered for a trial, you will need to first complete a consent form. After completing the consent, you will be directed to a diabetes history form. After completing these forms, a CDT staff member will reach out to you regarding your clinical trial eligibility.
The consent form will help you decide if you want to be listed in a secure database that helps the CDT staff identify potential participants for future diabetes research studies.
Your information will be stored in a highly secure database accessible only to CDT staff. If the information you provide matches the requirements for a specific study, you will be contacted by one of our Clinical Research Coordinators with further information regarding the study.
We cannot promise that you will be enrolled in any current or future studies at the University of Virginia.
Completion of the forms will only guarantee that we will have your contact information for the future event we have a study you are eligible for.
The best site to use for finding clinical trials is Clinical Trials.gov. There you can see the design and purpose of studies going on throughout the world. You can also see the contact information for sites not listed on the CDT website.
An additional resource that the University of Virginia is using is Research Match.org.
JDRF. org also has a database of clinical trials specifically for Type 1 Diabetes happening near you.
It depends on the research study!
Some studies require frequent trips to Charlottesville for study visits/check ups/tests, while others all of the study visits can be done remotely or over the phone. Some studies can last for over six months, while others could only be for 72 hours.
Commitments change for every study.
It depends on the research study!
Some studies require the person to be fully using an insulin pump and a continuous glucose monitor (CGM) for a certain period of time before the study.
Some studies only require prior use of a CGM.
Other studies you can be using multiple daily injections (MDI) to manage your diabetes and still be eligible to participate!
Commitments change for every study.