Meaghan Stumpf, MD
Contact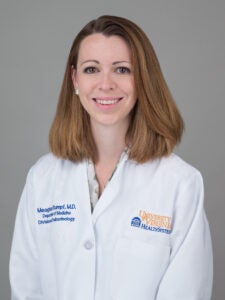 mms5cf@hscmail.mcc.virginia.edu
Endocrinology & Metabolism
PO Box 801406
Charlottesville, VA 22908
Practice Locations:
Charles Strickler Transplant Center
University of Virginia, West Complex
Diabetes, Endocrinology, and Metabolism Clinic
UVA Fontaine Research Park
Advanced Diabetes Management Clinic
UVA Endocrinology at Pantops
Dr. Meaghan Stumpf was born in Richmond, Virginia but raised in upstate New York. She attended college in the beautiful Finger Lakes region of New York State, attended medical school in Syracuse, NY, and then moved to the Mid-South region of the US to complete residency training in Medicine and Pediatrics in Memphis, TN.
Finally, Dr. Stumpf moved to the state of my birth to complete fellowship in Diabetes, Endocrinology, and Metabolism at the University of Virginia.  After completion of fellowship, she remained at University of Virginia to start her practice as a Transplant Endocrinologist, where she has the great privilege to work in a collaborative, multidisciplinary team to care for patients before and after solid organ transplantation.
Dr. Stumpf clinical interests include caring for patients with all types of diabetes mellitus (DM), including but not limited to type 1 DM, type 2 DM, and Post-transplant diabetes mellitus (PTDM). She specialized in treatment of diabetes mellitus for patients with Type 1 DM on diabetes technology, patients who have received solid organ transplant, patients with chronic kidney disease and dialysis-dependent patients.
Additionally, she provide care for young adult patients with endocrine disorders who are transitioning to adult-based care.  An important part of her  practice also includes evaluating patients with insulin-dependent diabetes for pancreas or islet transplantation. Her focus on the use of diabetes technology, including personal insulin pumps and continuous glucose monitors for treatment of diabetes mellitus in each of these patient populations.
Professional Education:
B.S in Biology, Hobart and William Smith Colleges, Geneva, NY
Doctor of Medicine (MD), SUNY Upstate Medical University College of Medicine
Board Certified in Internal Medicine, Residency completed at University of Tennessee-Health Sciences Center at Memphis, TN
Board Certified in Diabetes, Endocrinology, and Metabolism, Fellowship completed at University of Virginia, Charlottesville, VA
Dr. Stumpf is currently the PI for two pilot clinical research studies. The first is to investigate the accuracy of continuous glucose monitors in patients on intermittent hemodialysis.  The second is to investigate the safety and feasibility of the use of closed loop insulin delivery (also called artificial pancreas technology) for patients in the immediate postoperative period following kidney transplantation.