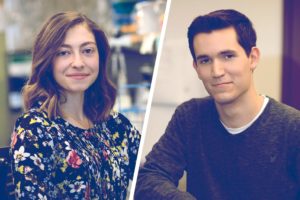 Beyond the Clinic is about persons who are doing things to make a difference "Beyond the Clinic".
In this post, Beyond the Clinic is focused on the two of the UVA Medical Scribes.
In general, the UVA Medical Scribe program is normally filled with undergraduate, graduate, gap-year, and beyond students and others that are seeking an experience inside the Emergency Department or other clinics through the hospital, across grounds, and beyond.  These medical scribes are remarkable in their education and chosen fields as well as have placed high on the percentiles on the MCAT which together leads to enrollment in medical schools, graduate schools, and others.
The spotlight members this time is Nayla Labban and J.C. Panagides.   "Nayla Labban of Richmond, a second-year biology major focusing on neurobiology, and J.C. Panagides, of Sterling, a third-year biomedical engineering major with a minor in applied mathematics, have landed Arnold and Mabel Beckman Foundation Scholarships," as reported by Matt Kelly of the UVA Today Report.  These two were spotlighted in an article titled, Undergraduate Duo Earn Major Science Research Awards in the UVA Today on March 27, 2017.