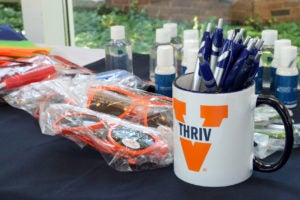 The Translational Health Research Institute of Virginia (THRIV) is celebrating International Clinical Trials Day (May 21, 2018) by hosting public educational events at the UVA Health System and on Charlottesville's Downtown Mall. The next event will be this upcoming Sunday, May 27th, on the mall from 10am to 3pm.
THRIV aims to improve the health of the Commonwealth through integrating health-related data, facilitating connections across the University and the community, as well as educating the next generation of researchers and the community.
During yesterday's event in the hospital breezeway by the University Hospital, clinical and support staff gathered to educate patients, visitors and colleagues on THRIV's initiatives. Several participants stopped by and spun the wheel for trivia questions. Prizes included orange sunglasses, kites, and mugs. A few of the trivia questions were along the lines of, "When was the first clinical trial performed?" (hint: more than a hundred years ago!) and "After you have signed an informed consent, are you required to participate in the clinical trial?"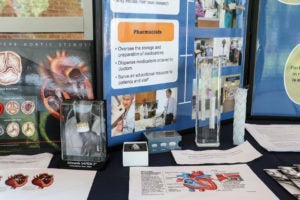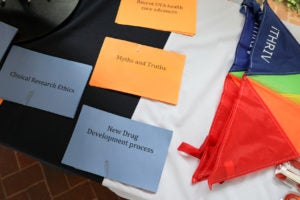 For more information on clinical trials that are currently being performed by the UVA Health System, click here. If you are interested in learning more about the institute, click here.