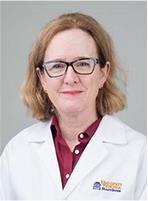 We wanted to take a moment out of our day to recognize the achievements of Dr. Theresa Schlager. She provided 31 years of dedicated service to the University of Virginia before her retirement earlier this year and she is the first recipient of the title Professor Emeritus from the Department of Emergency Medicine.  We greatly appreciate her contributions to the academic and clinical development of Emergency Medicine, Pediatrics and Infectious Disease at the University.
Dr. Schlager was originally recruited to UVA by the Departments of Pediatrics and Internal Medicine Division of Infectious Diseases. She then went on to become a founding member for the Department of Emergency Medicine. Throughout her time with our department, she worked diligently to promote excellence in patient care and residency education. She maintained a joint appointment with the Department of Pediatrics and fostered interdisciplinary collaboration. She acted as a residency lecturer, an instructor with the Simulation Center, and a faculty mentor for the School of Medicine's Curriculum.
Dr. Schlager was a role model and mentor for women entering and developing as faculty at UVA. She contributed to the School of Medicine Committee on Women, the EM Faculty Recruitment Committee and Promotion-Tenure Committee during her time with us. For her leadership and research excellence, she received UVA's Women in Medicine and Science Sharon Hostler Award as well as the Virginia Local Legend Award.
After retirement from the University of Virginia, Dr. Schlager moved to the Chesapeake area and works part-time for Children's Hospital of the King's Daughters.
In addition to her academic and clinical work, her family has supported the needs of the Los Esteros De Indio Clinic in Honduras for over 15 years.
Thank you, Dr. Schlager, for your years of service and your countless contributions to education and patient care.