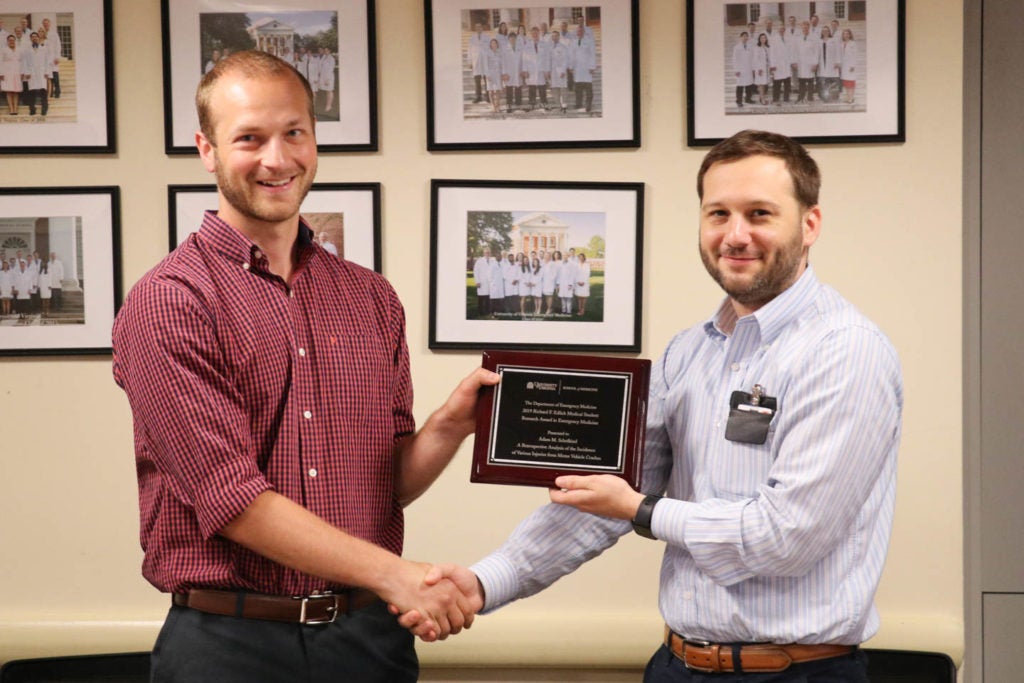 Dr. Richard F. Edlich was a very distinguished educator, physician, and healthcare champion. He contributed to the development of the UVA Burn and Would Healing Center, the North Fork Research Park, and the Emergency Medical Service at the UVA Hospital. He received many awards for his significant contributions to healthcare, including awards from American College of Emergency Physicians, the Department of Health and Human Services, and the University of Virginia. For further information on Dr. Edlich's extraordinary life, visit The Daily Progress or UVA Today.
In Dr. Edlich's honor, an award was established in 1995 for graduating medical students whose research in Emergency Medicine significantly contributed to patient care. The 2019 Richard F. Edlich Medical Student Research Award in Emergency Medicine was recently presented by Dr. Thomas Hartka, Assistant Director of Emergency Medicine Research Office (EMRO), to Adam Schefkind, MD. He is recognized for his body of work titled, "A Retrospective Analysis of the Incidence of Various Injuries from Motor Vehicle Crashes."
To see a list of past recipients, visit Awards and Honors.