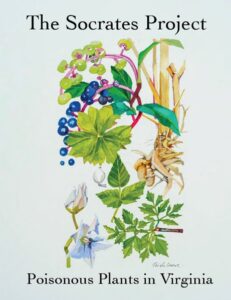 "The Socrates Project – Poisonous Plants in Virginia," is a wonderful free resource on poisonous plants in Virginia that anyone can download and reference. It is a collaborative effort between the Virginia Master Naturalist Program, the Blue Ridge Poison Center at UVA Health, and the University of Virginia School of Medicine Division of Medical Toxicology.
Dr. Chris Holstege, Chief of the Division of Medical Toxicology and Director of the Blue Ridge Poison Center, recently spoke with WVTF's Radio IQ's program. He discussed the poisonous plants of Virginia, their lookalikes, and the hidden dangers of foraging for food. The pandemic has led to an increase in calls to poison control due to more people foraging in the woods. More than 1,000 copies of the "The Socrates Project" have been printed in order to be distributed to school nurses and other community leaders to help address this issue.
To read more regarding this effort, read UVA Today's article or visit the Blue Ridge Poison Center's webpage.