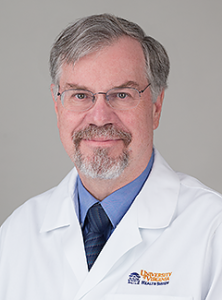 Dr. J. Stephen Huff joined UVA faculty in 1995 as the Department of Emergency Medicine and residency program was established. He has been active in medical education and has served diligently as a mentor. Dr. Huff has received teaching awards at local, regional, and national levels and put in an estimated 25,000 hours of mentorship, development, and training of students, residents, fellows, faculty, and other visiting or inquiring students.
Dr. Huff's research activities included acting as an investigator and sub-investigator on numerous interventional stroke, concussion, and other neurological emergency studies. He has been involved with human subject safety at UVA, serving on the Institutional Review Board since 2011, and is past vice-chair of the IRB-HSR.
Outside of UVA, he has been active on editorial boards and as a peer reviewer for numerous journals. His service activities include appointment as a senior oral board examiner for the American Board of Emergency Medicine and being active on the Clinical Policies Committee of the American College of Emergency Medicine.
During Dr. Huff's career as an Emergency Medicine physician, it is roughly estimated that he had about 100,000 distinct patient encounters. He ranked highly in patient assessments.
After 26 years of service, Dr. Huff retired earlier this year and he is the third professor from the Department of Emergency Medicine to be recognized as Professor Emeritus.
Thank you, Dr. Huff, for your years of service and your countless contributions to education and patient care.