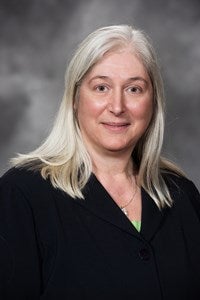 Dr. Debra Perina was recruited to University of Virginia as a founding faculty member of the Department of Emergency Medicine and approved Emergency Medicine residency. Shortly after her arrival, she created the Division of Prehospital Care, which brought together all medical transportation services and ensured enhanced patient safety with medical oversight.
Over her 26 years of services, Dr. Perina has provided exceptional care to patients and has established new programs. She was instrumental in the formation of a critical care ground transport service that extends the UVA Medical Center's critical care to the most critically ill and injured patients in the Commonwealth of Virginia. Throughout her service, she has personally cared for 100,000 patients in the Emergency Department and countless others through her work with the UVA EMS medical transport services. She has frequently been sought out by her peers as a national expert in EMS medical direction and has published numerous peer-review manuscripts.
Dr. Perina's work has also extended to being a leader for the UVA School of Medicine and impacting academic achievements. Among her many achievements, she established the first EMS Fellowship in Virginia and served as program director. Under her mentorship and guidance of professional development, EMS fellows achieved productive careers as academic faculty, regional EMS medical directors, and program directors of other EMS fellowships nationwide.
Furthermore, Dr. Perina has served on the Boards of all major Emergency Medicine and EMS Scientific Associations and is the Past Board Chair of the American College of Emergency Physicians (ACEP). She was also President of the American Board of Emergency Medicine (ABEM). She successfully spearheaded the effort to create the subspecialty of EMS medicine and developed the national training curriculum for EMS Fellowships as well as the Core Content for EMS Medicine that is the framework for the certification examination.
Dr. Perina's efforts and achievements are numerous in the field of Emergency Medicine and the subspecialty of EMS medicine. All of which cannot be contained here. She served unquestionably as a mentor, peer-collaborator, and respected advisor to many on a local, regional, and national basis.
After 26 years of service and based on Dr. Perina's level of influence, she achieved Professor Emeritus in fall 2021. She continues to give back to current and future generations of educators, researchers, and practitioners. Dr. Perina is the fourth professor from the Department of Emergency Medicine to be recognized as Professor Emeritus.
Thank you, Dr. Perina, for your years of service and your countless contributions to education and patient care.