UVA Health News Release, June 15, 2023
Announcement from Dean Melina Kibbe, June 15, 2023: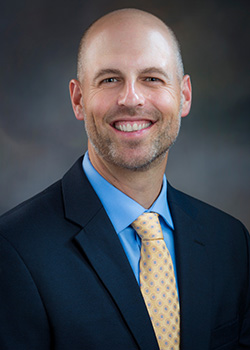 Dear UVA Health Community,
Today, I am pleased to announce the appointment of Andrew E. Muck, MD, MBA as the new Chair of the UVA Department of Emergency Medicine, effective September 15.
Dr. Muck comes to UVA from the University of Texas Health Science Center at San Antonio where he serves as a Professor in the Department of Emergency Medicine, and Faculty in the Center for Medical Humanities and Ethics.
Dr. Muck is an experienced leader in emergency medicine with a track record of fostering exceptional patient care, educating the next generation, and contributing to the advancement of his specialty with precisely the skills needed to continue and enhance the exceptional work under way in the Department of Emergency Medicine. A staunch patient advocate, Dr. Muck has led dramatic improvements in patient throughput, patient satisfaction, and sepsis compliance and overseen clinical programs and emergency provider staffing in sites with overall annual visits of 150,000 patients per year.
Dr. Muck served as interim chair of UT Health San Antonio's Department of Emergency Medicine from July 2018 to October 2019, program director from July 2016 to July 2020, and as vice chair of education from October 2017 to July 2020. In his later two roles, he oversaw a residency program of 34 residents, a third-year medical student clerkship of more than 200 students per year, a fourth-year rotation of 60 students per year, a fourth-year ultrasound elective of 60 students per year and multiple fellowship programs. He is well-respected by his peers and trainees and has received many awards and accolades, including the University of Texas Presidential Teaching Excellence Award and Texas Top Doctors for outstanding professional achievement.
Dr. Muck served in the United States Air Force with deployments in support of both Operation Iraqi Freedom and as a Critical Care Air Transport Physician in Operation Enduring Freedom.  As an Air Force veteran, Dr. Muck also serves as the founding medical director of the San Antonio Refugee Health Clinic, which provides free health care for refugees placed in San Antonio from Afghanistan, Nepal, Burma, Iraq and several African countries.
I would also like to express my sincere gratitude to Bob O'Connor, MD, MPH, who has served as chair of the Department since 2007. His incredible tenure and commitment to the department have been instrumental in building the exceptional department it is today.
Please join me in welcoming Dr. Muck to UVA! His incredible expertise, passion and dedication as an academic clinician, educator, humanitarian, and leader strongly aligns to our missions and we're excited he will be joining our organization to help us achieve our aspirational goals.
Sincerely,
Melina R. Kibbe, MD
Dean, UVA School of Medicine
James Carroll Flippin Professor of Medical Science
Chief Health Affairs Officer, UVA Health
Professor, Departments of Surgery and Biomedical Engineering
Editor in Chief, JAMA Surgery