Memorial to Dr. Stacey Anderson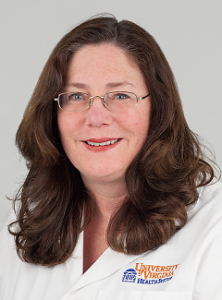 We collectively express our profound sadness at Dr. Stacey Anderson's passing on September 26, 2021. Dr. Anderson was a much-beloved part of the endocrine family since 1995. She is survived by her husband, four children, and many other family members, friends, and colleagues who love and respect her very much.
We'll always remember Dr. Anderson as a brilliant but completely unassuming person. She was a serious person, but she was always kind and engaging, and we often saw how she could be playful in an understated and good-humored way. Because she generally avoided the limelight, many didn't fully recognize how accomplished she was. Here we summarize her outstanding career as a small way to honor her memory.
——–
Dr. Anderson (Stacey) received her B.S. degree (molecular biology) from Vanderbilt University in 1988 (magna cum laude, Phi Beta Kappa). She attended medical school at Vanderbilt (1998-1992), and her early aptitude for research was acknowledged in 1991 by an American Federation for Clinical Research Student Research Award. Fortunately, Dr. Anderson matched at UVA for Internal Medicine Residency (1992-1995), and she stayed at UVA for her Endocrinology and Metabolism Fellowship training (1995-1998). Her initial area of research interest related to estrogen neuromodulation of the growth hormone axis. In 1998, she became a faculty member and received a highly-coveted NIH General Clinical Research Center Clinical Associate Physician (CAP) award—a precursor to the K23 career development award. Over time, her research interests shifted towards diabetes: algorithmic control of glucose with hyperinsulinemic-euglycemic and hypoglycemic clamping procedures; continuous glucose monitoring accuracy; artificial pancreas clinical trials; and decision support systems in diabetes management. Dr. Anderson became medical director of the Center for Diabetes Technology (CDT) in 2010, and she became a Certified Diabetes Technology Clinician in 2013. Largely on the basis of her outstanding research contributions, Dr. Anderson was promoted to Associate Professor of Medicine in 2015. She was also a recipient of the Department of Medicine Excellence in Research Award that same year.
Dr. Anderson was recognized as an international expert in closed-loop (artificial pancreas) systems, as recently evidenced, for example, by her serving as Session Moderator for the 2019 American Diabetes Association Annual Scientific Session entitled "On the Road to Automated Insulin Delivery." In addition to engaging in substantive collaborative research with the CDT, she participated in the International Diabetes Closed-Loop Steering Committee, the Control to Range Study group, the International Artificial Pancreas (iAP) Study Group, and the Juvenile Diabetes Research Foundation (JDRF) Artificial Pancreas Project Consortium. Over her career, Dr. Anderson's was Principal Investigator (PI) of a multicenter international clinical study ("Systems Approach to Closed-Loop Control at Home," part of the JDRF Artificial Pancreas Project); was Co-PI of a large National Institutes of Health (NIH) cooperative agreement ("Clinical Acceptance of the Artificial Pancreas: the International Diabetes Closed Loop (iDCL) Trial"); was PI for one U.S. Department of Defense grant, one JDRF grant, five industry grants, and one Icahn School of Medicine at Mount Sinai grant; was Co-Investigator for nine NIH grants, two JDRF grants, and one UVA K12 grant; and was Site PI for three multicenter industry grants. Notably, Dr. Anderson published over 50 peer-reviewed clinical research manuscripts, which is an exceptional publication record given the nature of her clinical research.
Dr. Anderson was also recognized as an outstanding physician with special interests in diabetes, diabetes technology, and thyroid disease. She was included in the Best Doctors in America list each year from 2013 to 2020 and was a Castle Connolly Top Doctor in 2019 and 2020. In 2019 she received formal Recognition of Outstanding Patient Experience on the basis of patient survey data indicating performance in the top fourth percentile nationally.
Dr. Anderson was promoted to full Professor in 2021.
——–
In lieu of flowers, her family has set up a charitable fund to benefit Diabetes Research at the UVA Center for Diabetes Technology, where she was the medical director.